See Tesla Model S Plaid With Stripped Interior Accelerate Like Mad On Autobahn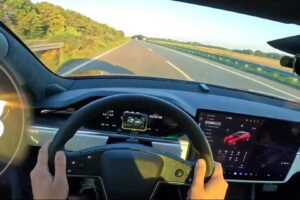 Electric vehicles might have their critics, but it's hard to argue with the technology's performance advantages. The Tesla Model S sits near the top of the performance car pile for a reason, with the Plaid variant delivering an astonishing amount of power from its triple-motor setup, all of which gets unleashed on the German Autobahn in the video above.
The Model S Plaid has 1,020 horsepower on tap that can propel the family sedan to 60 miles per hour in around two seconds. It's blisteringly quick, and the stripped-out version blasting down the famous highway has no trouble cracking the 200-mile-per-hour mark thanks to the new Track Package.
The sedan lacks its rear seats, which only helps its performance capability. The on-board data recorder clocked the car going from zero to 62 mph (100 kph) in 2.35 seconds, and it took the sedan just 9.33 seconds to run past the quarter-mile mark, which it completed at 151.15 mph (243.25 kph).
The Tesla sprinted from a standstill to 124 mph (200 kph) in just 6.41 seconds and needed another 8.89 seconds to go from 124 mph to 186 mph (300 kph). It would reach 203.8 mph (328 kph) in the video and take 14.64 seconds to pass the half-mile mark, cruising by the other cars on the Autobahn.
Data from a different Model S Plaid's run earlier this year on the Autobahn returned slightly slower numbers. The car needed 2.56 seconds to reach 62 mph and 6.82 seconds to hit 124 mph. It was also slower through the quarter-mile with a 9.62-second time.
Those numbers are impressive, rear seats installed or not, and exemplify EVs' biggest advantages. They are quick, often sacrificing top speed for raw power, but the Model S Plaid offers both so long as the battery has juice. EVs will continue to improve, becoming more efficient, affordable, and powerful.
Tesla recently made the Model S more accessible by cutting its price, a recurring theme with the company in 2023. The Dual-Motor All-Wheel-Drive version dropped from $88,490 to $74,990. The Plaid, with 1,020 horsepower and neck-snapping acceleration, decreased from $108,490 to $89,990, and you still get 396 miles of range. The base Model S can go 405 miles before a recharge.
Source: Read Full Article