Porsche 914 Mid-Engine Restomod Has Cayman Roots, Carbon Fiber Body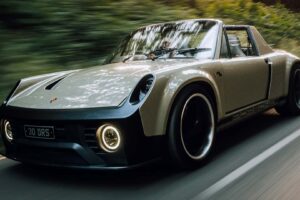 Almost three years since its initial announcement, Fifteen Eleven Design proudly presents the final production version of its Porsche 914 restomod. The restoration firm has also opened the order books for the sports car, which has been designed and built as a nod to one of the least popular models in the history of the German brand. 
The project was first introduced in 2021 and at its heart is a mid-engined, Targa-topped roadster design based on the Porsche Cayman S. This means there's a 3.8-liter flat-six engine under the hood, which has gone through extensive reengineering to unleash a compelling 380-400 horsepower. Some of the upgrades include reinforced internals, forged pistons, and a Life Racing ECU. This translates to over triple the performance of a stock 914. The mill is mated to a six-speed manual transmission.
Gallery: Porsche 914 by Fifteen Eleven Design
The handling and ride quality are expertly handled by Reiger's three-way adjustable coil-over shock absorbers. These components, often found on World Rally Cars, are integrated into the Cayman-based suspension architecture. Porsche Brembo four-piston calipers, cross-drilled and vented discs, and an AP Racing pedal box collaborate to deliver improved stopping performance. Additional features encompass a fly-by-wire throttle, bespoke stainless exhaust system, 18-inch Fuchs wheels, and Michelin Pilot Sport 2 tires.
Design-wise, Fifteen Eleven ditches the original pop-up headlights and installs projector LED lamps. Since the Cayman's engine is liquid-cooled, versus air cooling for the original 914, the company also has to adapt the front bumper and hood to make room for the radiator and oil cooler. The lift-off roof is still present, but Fifteen Eleven makes the panel clear for a brighter cabin. The exterior panels are made of carbon fiber.
The interior of the 914 restomod reflects a similar level of intricate attention, with bespoke leather adorning the cockpit and Recaro seats for improved comfort. A redesigned bulkhead offers increased legroom. Each order is a bespoke creation, tailored to the customer's preferences for color and trim, and is available in both left- and right-hand drive configurations.
The order books for this exciting new Porsche restomod are officially open with prices starting at $444,000 (350,000 British pounds).
Source: Read Full Article