2023 Nissan Navara Black Edition now in Malaysia – V, VL gain styling kit, accessories; priced from RM135k – paultan.org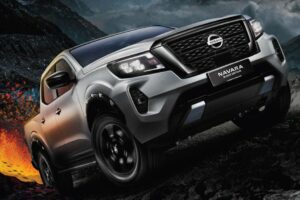 Edaran Tan Chong Motor (ETCM) has introduced the new Nissan Navara Black Edition, which adds styling enhancements and accessories inspired by the range-topping Pro-4X to the existing VL and V variants.
These upgrades are offered as packages, which are worth RM14,700 for the VL and RM13,500 for the V. Both packages include two-tone (gloss black with silver accents) overfenders as well as front grille cladding and side mirror caps in gloss black.
For the V, the Black Edition package also includes gloss black 17-inch wheels and items that are part of the existing Premium Package, which combination leather upholstery in place of the stock fabric and V-Kool security film tint.

Meanwhile, the VL's Black Edition package includes items from the Protection Package, which include a fuel tank guard, oil sump guard, door sill plates, a dashcam, door visors and the same V-Kool security film tint. The 18-inch two-tone alloys that are standard on the VL are retained here.
"Ever since the PRO-4X was introduced as part of the Nissan Narava mid-life makeover, the bold yet sophisticated styling of the flagship 'Mother Trucker' has been greatly coveted by fans of the Navara," said Christopher Tan, the director of sales and marketing at ETCM.
"At ETCM, we go the extra mile to delight customers, hence it is my pleasure to launch the new Nissan Navara Black Edition which incorporates the visual cues of the Pro-4X flagship to the popular VL and V variants, complemented by premium accessories for an unbeatable value proposition in the pick-up segment," he added.
2023 Nissan Navara V Black Edition (left), VL Black Edition (right)
The Black Edition packages don't come with powertrain changes, so the V and VL continue on with the same YD25 2.5 litre inline-four turbodiesel engine that puts out 190 PS (187 hp) and 450 Nm of torque, paired with a seven-speed automatic transmission and selectable four-wheel drive system. The rest of the kit list is unchanged from a normal VL and V.
ETCM says it is offering the Black Edition packages at no charge along with a RM800 fuel card to customers who purchase a Navara V or VL this month. At present, the V variant of the Navara retails for RM134,800 on-the-road without insurance (it's gone up from what was announced back in January), while the VL goes for RM146,900. Once the introductory promotion ends, the V and VL with the Black Edition Package would be RM148,300 and RM161,600 respectively.
2023 Nissan Navara Black Edition brochure; click to enlarge
GALLERY: 2023 Nissan Navara Black Edition






Looking to sell your car? Sell it with myTukar.
Research Nissan Cars at
2021 NISSAN NAVARA V 4WD 2.5L
2021 NISSAN NAVARA PRO-4X 4WD 2.5L
2019 NISSAN NAVARA NP300 VL 4WD 2.5L
2016 PERODUA AXIA G 1.0L
2019 PERODUA BEZZA X 1.3L
2021 HONDA CIVIC S I-VTEC 1.8L

Source: Read Full Article