Upgrading from a Toyota Fortuner: Which 1cr luxury SUV to buy?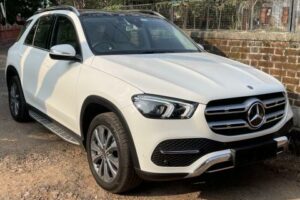 The GLE has the best interiors among the 3 cars.
BHPian smile_plzzz recently shared this with other enthusiasts.
I am in the process of upgrading from my Fortuner to a luxury SUV. After test drives and reading reviews of many others like Volvo XC90 etc, I have short listed these 3 options.
Audi Q7: I love the way it drives – pickup, handling, overall interiors. Though after looking at new X5/GLE, dashboard feels a bit dated. The pros are value for money while cons are brand name.
BMW X5: Love the new version. Best pickup/road handling amongst 3. Cons is 25-30 lakhs more expensive than Q7 and 2nd row seat is too upright. I feel that on very long drives, this might be issue for rear seat passengers.
GLE: Best interiors amongst the 3. Good leg space/recline angle/thigh support in back seat as well. But drive quality was not upto the mark. I didn't find it too responsive. Engine felt underpowered. Also, bumps on road got passed more to passengers compared to X5 and Q7.
I will love to hear user review from people on above 3 options and their story while going through similar journey of choosing SUV in this range.
I don't see many people posting about Q7 in this forum. How is long term ownership of Q7 in terms of fuel efficiency, maintenance frequency (apart from regular service)/associated costs?
Here's what GTO had to say on the matter:
What matters is which car appeals to you the most and clearly, you prefer the Q7 & X5. Take another long test-drive and pick whichever of the two tugs the strings to your heart more.

Once luxury car dealerships know you are serious, you'll easily get a longer TD, and also a full day or weekend with the car at your house.

In terms of price, no one can beat Audi, especially when they start talking of discounts.

The Q7 is a wonderful machine, one of Audi's top cars. The powerful 3.0 turbo-petrol, air suspension, equipment etc. will keep you happy. But if I liked the X5 more, personally, I would spend the extra cash and then enjoy the car more…keep the car for longer. You must read my article on this subject (How a more expensive car can work out cheaper (if you hold onto it for longer)).
Here's what BHPian aseem23 had to say on the matter:
Q7 is a very good car, but the facelift is due soon. Currently, you might get some good discounts on the Q7 too. It will save you a lot of money over X5, and GLE.

With GLE, go for the GLE 400d variant, but it will be expensive and you should try for some discounts. You won't find the 400d variant underpowered at all.

With X5, it has all the latest tech, and it looks awesome in real, but it is expensive, around 1.25CR On-road I guess.

In conclusion, you should first decide on the budget. For anything strictly under 90l-1Cr, go for Q7. If the budget is higher, then if you prefer a chauffeur go for GLE 400d, otherwise go for BMW X5 if you prefer to drive yourself.

Also, remember Q7 is available only in petrol option whereas GLE and X5 are available in both petrol and diesel.
Here's what BHPian vattyboy had to say on the matter:
Go for X5 40i. In my eyes, it looks the best of the lot with the best handling and performance.

Go for the X-Line variant OTR- 1.10 cr if you are price-conscious.
Here's what BHPian inwester had to say on the matter:
My pick in this segment would be GLE, if you can live with the underpowered 4 banger. Otherwise pay up a bit more and go for the 450. It's the newest, nicest and gives you the brand bragging rights.

Audi Q7 and Volvo XC90 are too old now and probably in their last year as the current model. Almost 7 years at least since launch and ready for a model change.

X5 would be the drivers pick. At least you won't feel shortchanged and get a 6-cylinder as standard.

Take a look at the Land Rover Defender as well, but in the 6-cylinder variant, it will be even more expensive.

Your wife isn't entirely inaccurate in her assessment, Audi generally has less brand cache and a bit cheaper (even in the developed markets), among the big 3 German luxury auto manufacturers (the other two being Mercedes and BMW).

However, at ~90 lakhs, Audi Q7 will be around 20 lakhs cheaper than the cheapest X5 and 30 lakhs cheaper than the 6-cylinder GLE. This does make things a bit tricky. In the end, think twice, buy what makes you feel the best, at this price range, you want to feel good for years to come and shouldn't have buyers remorse. If you are looking for a car in this segment, you are doing alright.
Read BHPian comments for more insights and information.
Source: Read Full Article