Alfa Romeo Says It's Profitable, Aims To Set Sales Record In 2025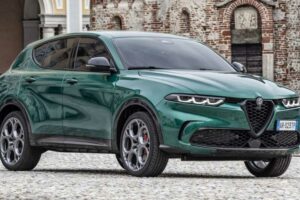 It's safe to say the Giulia sedan and Stelvio SUV never really lived up to Alfa Romeo's expectations in terms of sales, especially since the old Fiat Chrysler Automobiles (FCA) parent company poured about $1 billion into their Giorgio platform. With the MiTo, Giulietta, and 4C all gone, the company was in dire need of fresh products to rejuvenate sales. Thankfully, the Tonale is off to a strong start, so much so that Alfa is already profitable.
Speaking with Autocar, CEO Jean-Philippe said Alfa Romeo is already making more money than it's spending per car, adding that the future is looking bright. The head honcho estimates annual deliveries could hit as much as 90,000 cars in 2023 before increasing tremendously by the middle of the decade.
2024 Alfa Romeo Tonale First Drive
Imparato projects Alfa Romeo will break its sales record in 2025, which frankly sounds like a lofty goal considering the brand's record of 223,643 units. It was established way back in 1990 when the lineup was substantially more diverse than it is today. However, the family is set to grow in 2024 with the launch of a small crossover positioned below the Tonale.
Twinned with the Fiat 600 and Jeep Avenger, the B-segment crossover will be Alfa Romeo's first model to offer a purely electric powertrain. Well, technically the second since the new 33 Stradale supercar also has an EV option. ICE power might still be planned taking into account that its sister models are also available in a cheaper guise with a mild-hybrid gasoline engine.
Imparato pointed out Alfa Romeo is not chasing volume as it is prioritizing profit margins, which he hopes will reach at least 10 percent. He went on to say a healthy cash flow would create new opportunities for additional vehicles. To that end, the CEO suggested a revival of the Giulietta is possible in the long run, following the compact hatchback's retirement at the end of 2020.
By sitting underneath Stellantis' huge corporate umbrella, Alfa Romeo has the means to reach its former glory and go after the German luxury brands. The next-gen Giulia and Stelvio have already been confirmed to transition to electric-only propulsion in the coming years while bigger models with a US focus are earmarked for the latter half of the decade.
Source: Read Full Article