BMW Has 'No Interest' In An EV Pricing Race to the Bottom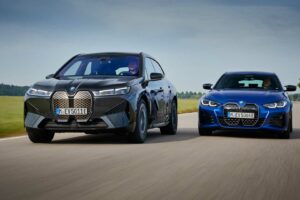 Despite some automakers feeling the cooling effects of lower-than-expected electrified sales, BMW Group is on fire. In fact, the automaker's order books are so jam-packed that the Germans have decided that its brands have "no interest" in lower prices despite competitors doing exactly that in order to drive demand.
The news of the BMW Group refusing to drive down prices to increase market share follows an extremely prolific third sales quarter for Battery Electric Vehicles (BEVs) across all of the group's brands. In particular, though, the BMW marque led the charge with a huge uptick in sales year-over-year, solidifying the decision to uphold pricing despite sky-high auto loan interest rates across the globe.
"We have no interest in sinking prices to gain market share," BMW board chair Oliver Zipse said in an interview with Reuters on Friday, specifically referencing the automaker's stance on the volatile Chinese market. "That's not our strategy. And as you can see, we are managing to grow substantially even with very acceptable prices."
Realistically, this play is BMW essentially telling the public "No tire kickers, we know what we've got." And what BMW has, exactly, is an extremely great sales year for its fully-electric vehicles thus far.
But even if BMW won't slash prices from the factory, it's worth noting that many dealers are running incredible on-the-floor deals and price drops on their electric models. As CarsDirect noted earlier this summer, BMW isn't always as upfront about this as other automakers, but if you want an iX, an i4, an i5 or an i7, you can probably stand to get a great discount if you shop around and play your cards right.
Last quarter, BMW delivered 93,931 BEVs across the BMW, Mini, and Rolls-Royce brands. Of its 621,699 total vehicle deliveries made over the entirety of the third quarter, fully electric powertrains represent a whopping 15%. Compared to year-over-year sales, 2023's deliveries It's also a huge jump of nearly 80% compared to its BEV sales figures in Q3 2022.
Speaking of increased sales figures, BMW Group is absolutely churning through new EV deliveries across all of its brands. The group collectively delivered 246,867 BEVs from Jan. 1 to Sept. 30, a nearly 93% increase compared to the same time period last year. Perhaps even more impressive is that the BMW brand itself was responsible for a huge number of these deliveries – 119.3%.
BMW says that its sales were up considerably in most major markets, including Europe, Germany, the Americas, and the United States. However, in both Asia and the competitive Chinese markets, the group experienced a sales dip. Despite this, Zipse says that the brand plans to hold strong on its pricing strategy.
While BMW's measured success is certainly a positive trend for the automaker, it speaks to the company feeling quite confident about its global positioning and brand image. Other automakers are beginning to lower the prices of their own EVs in order to remain viable in an inflation-riddled global economy. Whether or not this pricing strategy will continue to be sustainable in the long run is still unknown, though the Germans feel that the brand's market share will continue to grow throughout the remainder of the year.
Source: Read Full Article