Camouflaged Kia EV6 Facelift Suggests Design Changes Are Coming Early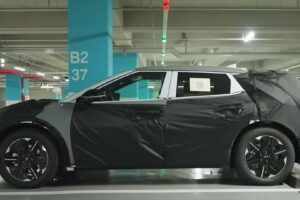 Kia unveiled the EV6 less than three years ago, but it looks as though a nip and tuck is already being worked on for the electric crossover. Despite having a futuristic design, the dedicated EV is preparing to go under the knife to remain fresh in an increasingly challenging segment. Don't let the bulky disguise trick you into believing there will be major design changes because Kia is known for being rather generous with the camo even when hiding small tweaks.
Caught in an underground parking lot somewhere in South Korea, the EV6 facelift seemed to hide redesigned headlights. Recent electric vehicles from Kia have received a new light signature, so it would make sense for this zero-emission crossover to adopt the updated visual identity to achieve a cohesive look across the range. Peeking through the mesh camo, these reshaped headlights appear to extend lower on the bumper.
2023 Kia EV6 GT First Drive
It's hard to make out any other details, but as a general rule, these mid-cycle facelifts rarely bring changes to a car's profile. Tweaks are typically limited to new lights front and rear, along with mild revisions for the bumpers. That said, the Kia/Hyundai/Genesis trio is known for coming out with radical changes during the life cycle of a product, so we'll have to wait and see whether that's the case with the EV6.
Knowing Kia's modus operandi, the revised EV6 will be initially released in its domestic market, possibly in the second half of 2024. Europe, the United States, and other regions should have it by the end of next year or early 2025.
Since the EV6's launch a couple of years ago, the Korean brand has bolstered its electric portfolio with the bigger EV9 while recently revealing the production-ready EV5 on the same E-GMP as the other two. In addition, it has also shown concepts for the EV4 and EV3 along with transitioning the Niro EV to the next generation.
Source: Read Full Article