110 km daily commute on my TVS NTorq: Mods & ownership review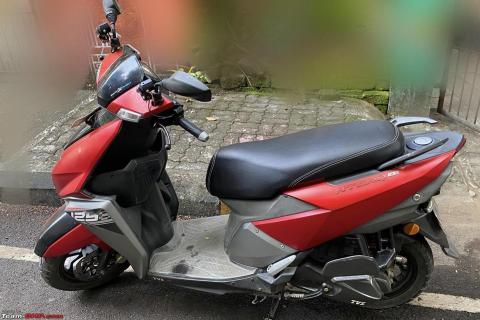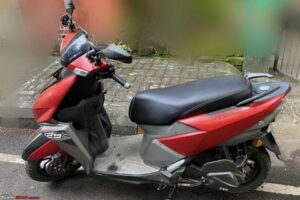 Handling and filtering the scooter in traffic is very easy. Thanks to the power on tap, gaps can be closed very quickly.
BHPian Iyencar recently shared this with other enthusiasts.
TVS Dakar Team:"What's your riding experience"
Me: "Western suburbs to Panvel and back daily"
TVS Dakar Team: "Isko kaptaan banao"
Naturally, this interview never happened. But the commute does. So that meant I had to make some changes to my 2018 Ntorq. But I'm jumping the gun. A picture can speak 1000 words but I can type 1001 words so enjoy the incoming wall of text with some random pics.
We initially got the scoot when we were staying in the central suburbs as a fun little ride for local small chores and supermarket trips. I got addicted and started using it to commute to work (at the time from central Mumbai to Panvel a distance of around 30 km one way). Not surprising because according to me this is a product that came out when the nice folks at TVS were probably having a really good day at work.
Still looks as fresh as the day we got her home. Note the glove box which is a TVS accessory. Can easily keep a phone and not worry about it falling off on bad roads.
Pros:
Looks
To start with they got out a scooter that looked like nothing in the market and as close to the original concept shown in one of those auto shows many moons back. They topped it up with incredible colours including matte finishes. The matte red especially has held up really well with only regular washes.
Solid engineering
An exhaust that sounded like nothing on any other scooter at the time.
Actual telescopic suspension forks in the front (not the T-type) giving a very balanced ride quality.
Chunky 12-inch diamond cut (what on earth does that even mean?) alloy wheels with 110/80 tyres front AND back. Again, the competition was giving much smaller tyres and the Burgman which came later gave a 12 in wheel only at the rear, or was it the front? I'm confident of being 50% right.
The aforementioned parts made it the heaviest scooter of the time at 116 kg but the weight is masked beautifully and actually gives confidence the faster you go. You can maintain silly speeds all day long and it can go wherever you look. That's how flickable it is.
A very very rev-happy engine. Incredible fun to ride. Has a power and eco mode depending on how hard you're wringing the throttle. It's really difficult to stay in eco mode
Thoughtful touches
Engine kill switch, external fuel lid, bypassing the AHO rule by using a separate DRL, small parking lever so you can free your hands at stop lights, etc. are small features in part but make life comfortable on the whole.
The LED display itself can have a section of its own, but mine has stopped working and I can't be bothered any less. A new one costs 5-8k and is nowhere on my priority list. There is a low fuel indicator light which luckily isn't part of the main display. I can now kind of tell when I'm falling low so I just fuel up towards the end of my drive or worst case the moment the yellow light comes on. Anyways the million features included a crisp display, trip meters, digital fuel gauge, setting a high speed alert (I set mine at 69, wink wink nudge nudge) and turn-by-turn navigation by MapMyIndia which frankly was a terrible decision by TVS. All this connected to an app which takes space that could better be used for cat and dog pics on your phone.
Riding position
It is very comfortable for me (5'10" tall during the day)
Cons:
Dealerships and Service Centers – They are a deadweight to the brand.
Some gems below:
The day we took delivery the scooter would shut down when the accelerator was released. It was already past closing time so we had to turn back and leave the brand new scooter there. Turns out it was a simple brass screw that needed to be turned to set the idle.
Service centre pressure washed the number plate and ended up washing off some digits. And they messed up the idling. This was a different dealership.
A day after another service at a third centre, I was riding on the Kharghar flyover and suddenly couldn't accelerate. Luckily I managed to safely bring the scooter to the side of the road. TVS RSA took a good couple of hours to come and then it was just a van. Then a towing truck took another couple of hours to reach and took it to a fourth service centre which was within their approved radius. The centre was neither close to my work nor my home. Sigh. Anyways, the culprit was an accelerator cable that had snapped. The forum felt it was a wear and tear part that could go bad at any time. I felt and still feel it should be inspected and caught in service.
The silver lining in all this is that shooting a mail to TVS infuses life and a sense of responsibility into the dealerships.
Headlamp is a joke. The DRL is actually brighter in some evenings. TVS replaced this with a full LED set-up in later iterations but it can't be retrofitted.
Boot cannot fit a full-face helmet.
FE is barely 30-35 kmpl but that's also because the scoot begs to be ridden hard.
Seat is sloped a little too far down and also needs to be longer and wider (insert Michael Scott's "That's what she said"). Pillion space is poor and I end up sliding down and putting pressure on my arms on longer rides. If you're not romantically involved with the pillion you both avoid eye contact for a few hours after the ride.
Pain in the ass to start if left unattended for a few days, especially when the temps are anything less than 26 deg C which is probably the temp of the whole country for 4 months of the year.
So those are my impressions of the Ntorq. Now coming to living with it on a daily basis and more importantly riding the hell that is the WEH also on a daily basis. So there were a few years in between where it was ridden lesser and lesser every week due to a multitude of reasons like COVID, followed by a shift closer to my workplace, etc. I did do some mods like adding a small flashing light near the rear wheel for safety and changing to a no-name brand LED which improved the lighting somewhat.
Then for personal reasons, we moved to the Western side. Now I'm really going to let loose and vent. I need this so please bear with me. The Western side of Mumbai is an area without the heritage of south Mumbai, the charm of central Mumbai, and the cleanliness and greenery of Navi Mumbai. Well, that's a blatant lie but it does not have any of these redeeming features along the main highway, i.e. the Western Express Highway/WEH. In fact, WEH is just a large three or four-lane road on each side and unpaved service roads all along. There is now a metro with names like Ovaripada which literally no Mumbaikar had ever heard of before. The metro for some inexplicable reason has not resulted in any reduction in traffic below while running to full capacity. There is also a metro being constructed on an offshoot which also causes traffic below. The beginning of the WEH doesn't have any metro. Yet there is traffic. You see where I am going with this.
The autowaalahs are imported from Bangalore and are nothing like those in the rest of the city. Then there is a black hole at a place called the Times of India junction. There can be no traffic before it and no traffic after it but you can bet your life that it probably has the highest density of cars on it. It makes no sense.
Speaking of traffic, it is insane. Google Maps will keep increasing the time the longer you spend on this road. The only way to avoid it is to travel during Brahma muhurta. Every other time is Rahu kaal. The workaround the authorities have given is randomly opening up a Magic Lane on the OPPOSITE side of the highway against oncoming traffic. They do this by suddenly moving barricades kept near the dividers. There is of course no single spot and no single time when this momentous event happens. So traffic keeps to the right in the hope that they can get lucky enough to avail this opportunity. They are in the fast lane and are of course the slowest. This is because the lane next to them involves folks moving faster than these guys and then suddenly trying to merge into Magic Lane.
Magic Lane is made more magical by the blinding lights from the cars coming in the opposite direction. The only thing stopping them from flicking the steering 2 degrees and crashing into you is-*drumroll*-rope. And even that is missing most of the time.
There is a board near Kandivali which warns of a difference in the road level. The difference is a good 3 feet high. Why the road suddenly decided to split and change levels is as yet unknown. There are metro barricades also on this section even though the metro is already constructed and running. This means traffic now merges from 4 major lanes and one service road into two lanes. This isn't enough of course. So Magic Lane ends just at the end of Split Lane and results in more traffic.
Anyways, thank you for putting up with my verbal diarrhoea for this long. Means a lot. After various permutations and combinations involving metros, trains and autos (I didn't try the local buses as I am not an animal) that would put a Chinese algebra student to shame, I realised the least tiring way was to ride the good old Ntorq.
Now I had made the stupid mistake of letting the scooter get wet this monsoon. This resulted in the LED conking off, some water seeping into the tank, suspiciously low fuel levels (inexplicably someone has to have stolen it), switches becoming hard and of course the scooter refusing to start. My best bud came with a bottle of petrol and added it into the tank. He then push started it. And I mean that literally. He actually pushed it up and down the road and then fired it up. It worked. We then decided to celebrate later that night by going for food.
Stopped at a pump to fill petrol. Left the pump. It started pouring, we got soaked, decided to YOLO and ride. The scooter stopped and wouldn't start. This time we again pushed but it still wouldn't start. It was clearly time to let a professional take over from a bunch of desi hillbillies. The fuel was drained, the tank dried, something was done to the switches and 1700 bucks later the scooter was back to life. As I started riding it more regularly the switches worked better and the tyres rotated more freely and the scooter bounced back to normal.
I started commuting on the scooter and it is so much more doable. Calling it fun would be stretching it but there are sections I really enjoy. Handling and filtering it in traffic is also very very easy. Thanks to the power on tap gaps can be closed very quickly. However, in just a few days my petite behind felt like it was getting sanded off and I was also reminded that humans have a vestigial tailbone (someone please fact-check this). If it's vestigial why the hell should it be allowed to hurt? There should be a change.org petition for this. The culprit was a TipTop (that's really the name of the brand) seat cover with padding. The rains had turned the foam to stone and cats had used the top as a scratching post. Causing it to look like this: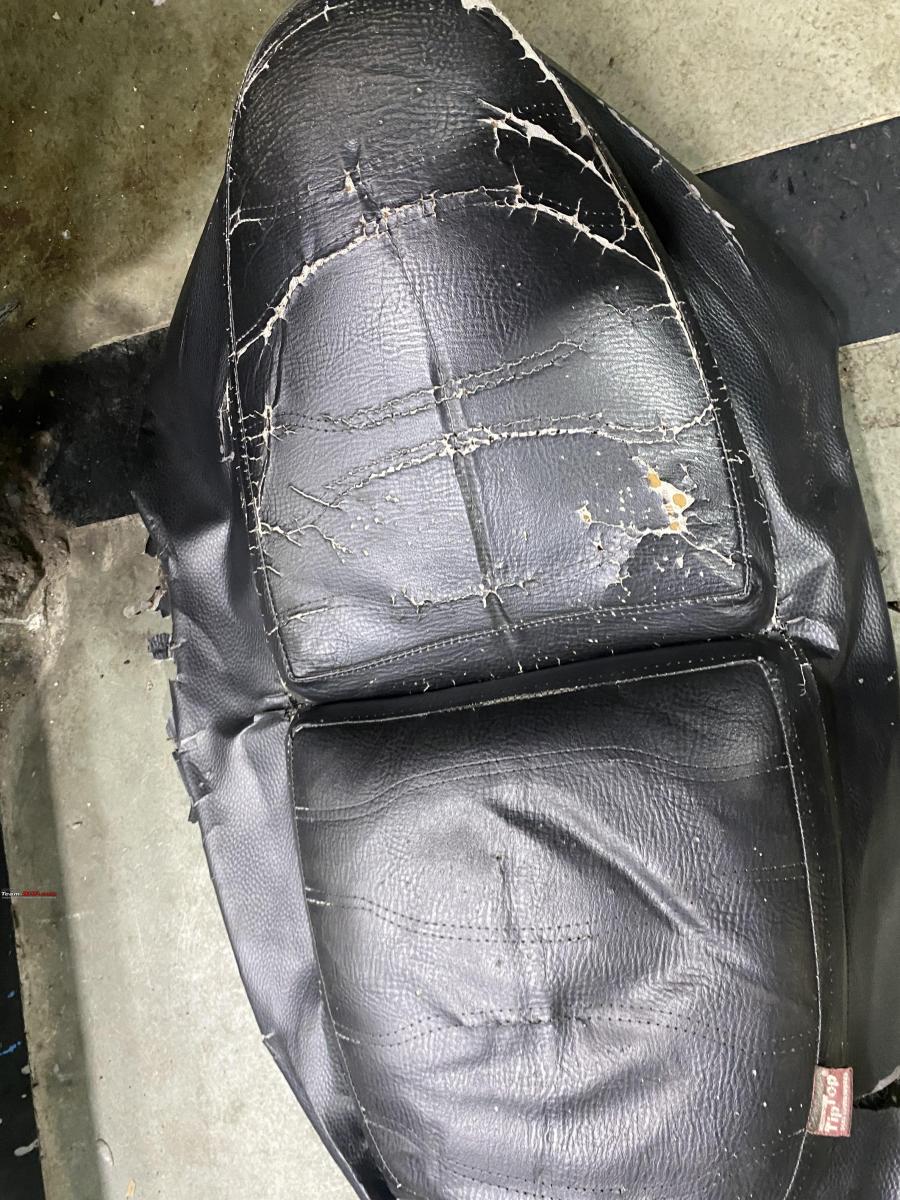 Anyhow the pain was becoming unbearable. I got fed up and walked into a BigWing showroom to ask about the Highness. The guy said 2.6L OTR. I told myself to stop being a softie and keep riding the scooter. I did however decide to get the seat modded. Looked up different possibilities on YouTube and saw what looked like a nice curved bucket seat. Chose a shop closest and with the best Google reviews called Patel Accessories in Nerul and told him my problem.
He looked at the seat cover and laughed. He advised me to trash the cover, add some foam and stitch it up with a good piece of cloth (coincidentally from TipTop). Told me it would cost 900 bucks. His laughing had already made me conscious so I did not negotiate. I also got educated on how the foam he used was awesome because it returned back to normal after sitting on it. Looked like any other foam to me. Didn't want to be laughed at again so kept quiet. Meanwhile, he showed me his scooter with a really beautiful bucket seat. That would be 3k and take a good part of the day. I thought I would try the basic option first. Here are the pics: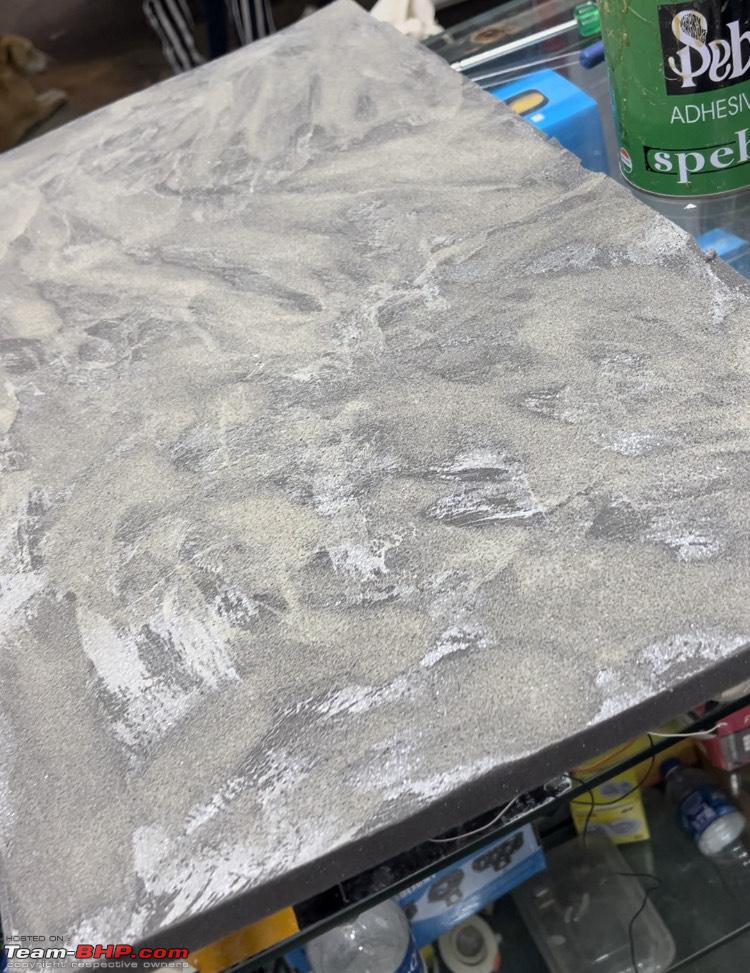 Magical mammary foam with adhesive spread on it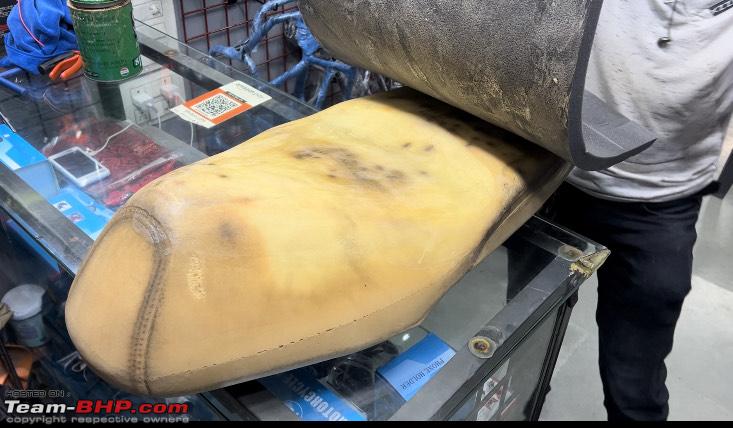 The foam being pasted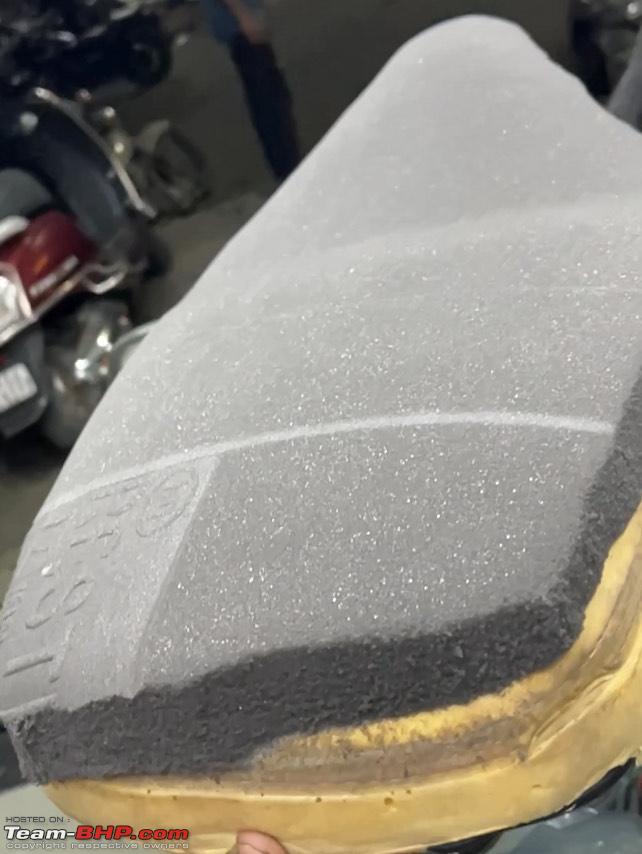 Stuck and edges scraped off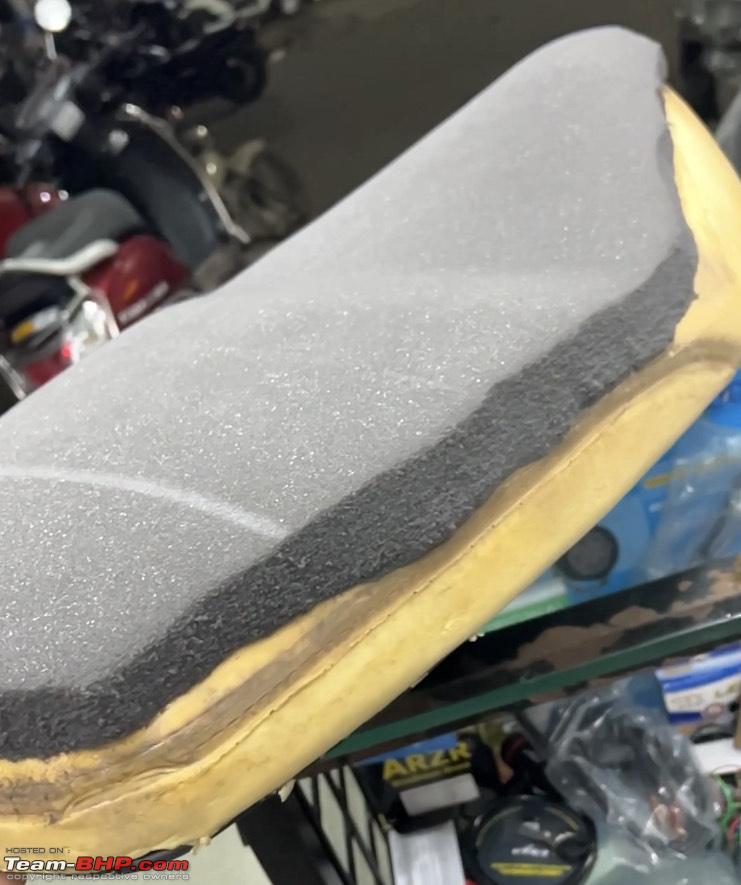 Note the thickness
Voila. Flatter seat and thicker.
I'm pleased with the end result. The hardness is just right. Only time will tell how long it is maintained.
While checking the seat on the shopkeeper's scooter I saw these aux lights he had on them. He turned them on and they were switchable between white and yellow fog lamps. I was impressed. Convinced myself the LED headlamp I had wasn't enough. The auxs (auxen?) cost 1k which is a hell of a lot less than 2.6 L for a new bike. Of course, the ones he gave were different from the ones on his scoot, 20 W each vs 25 W. I pointed out that they were different and he said 25W ones cost Rs. 2400 while 20W ones were 1000 bucks. I checked the throw on the cheaper ones and felt they would suffice for me. They were branded HJG and he said they were better than the China ones.
So I asked about the warranty and he said there was no warranty. I then asked if these were also made in China. He said yes. I was too confused to take the conversation any further. Guess it meant the quality was different. Anyways the lights needed a switch which was another 300 bucks. Since this guy only sold parts he called a guy called Abdul two shops down from a place I think called Bike Point to do the fitting. Labour was an additional 350.
Now came the question of where to stick the lights. Above the number plate would involve drilling. There was a removable cutout in the panel next to the headlamps but I thought it looked ugly. Finally chose to hook it up below the mirrors and use the same holes as the mirror stalks. My only concern was affecting traffic in front of me but I was assured that the light would be focused on the street. Abdul was super enthusiastic and set off to work. He even assured me if there were any issues he was there to fix them. As it turned out he meant it.
Note the brackets they're on are basically the ones used in scooter boots. Just realised the rubber stops now didn't cover the holes. I also noticed the right indicator arrow and the yellow power mode lamp wouldn't turn on. Went back to Abdul.
Very little exposed wiring which doesn't look shabby at all.
The switch to control the lights. Up is white, down is yellow. Really doesn't look aftermarket.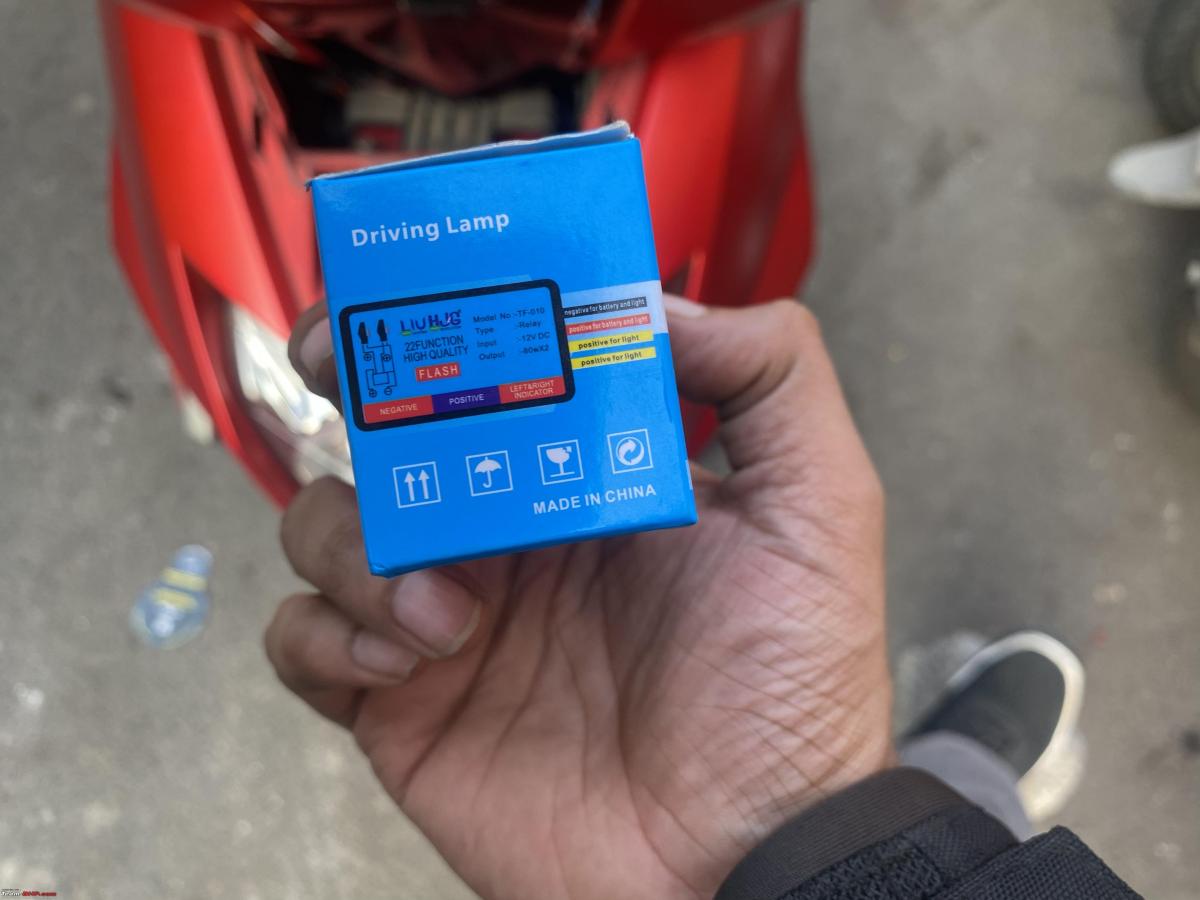 Also added a pair of hazard lights. Involved taking apart the front and again paying 300 for labour, 20 for the switch and 300 for the actual lights or modulator that hooked up to the switch. While he was at it I asked him to unhook the pin connector to the display and hook it back up. This solved the issue of the indicator arrow and the power mode light not working. However, I have been told that everything is going to conk off one by one. That's worrying because I need the reserve fuel light as a backup. Silver lining is that the guys gave me the number of someone who may be able to repair it.
Anyways to conclude:
Lighting has helped
Seating is better
Butt cheeks still hurt from the previous weeks of riding but should subside soon
The lights can be cleaned with a wet cloth and can take water falling on them but will go bad if pressure washed. Also shouldn't be on when the scooter is fired up or will blow. All in all good results for a small investment.
Will let you all know if anything changes and I go crazy again adding stuff. I may or may not move on to a bike but it'll only be after I'm darn sure this just won't fit my needs and I can't fix or change anything to do so. Money is of course in the picture but more than that I would like to learn to value, appreciate and enjoy what I have to the fullest. Otherwise, it's a rabbit hole from one buy to another.
The Ntorq is amongst the top 3 fun and VFM purchases for me, the first-gen MacBook Air and Kindle being the other two. As a family we really adore it and with some regular updates, we intend to keep this for as long as possible.
Thanks for reading!
Check out BHPian comments for more insights and information.
Source: Read Full Article