Cannondale Presents The Mavaro Neo SL Urban Electric Bike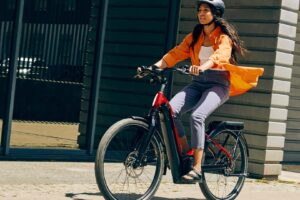 Cannondale has long held a prominent position in the cycling industry, offering a diverse range of bicycles, including e-bikes, to meet the diverse needs of cyclists worldwide. Their latest addition, the Mavaro Neo SL, is a commuter model designed for optimal accessibility and convenience. It's always nice to see premium brands catering to the entry-level segment, as it gives newcomers or those on a budget established options to choose from.
The Mavaro Neo SL was created with urban commuters and those who need a convenient mode of transportation for everyday tasks in mind. Its rear hub Bafang Motor provides efficient assistance for navigating city streets and accomplishing errands with ease. Cannondale offers two distinct models: the Mavaro Neo SL 1 and the Mavaro Neo SL 2. These models are designed to accommodate a range of riding styles and preferences, ensuring that riders can choose the one that best suits their needs.
To ensure riders get the right e-bike for their needs, Cannondale offers three different riding styles for the Mavaro Neo SL. This means that prospective buyers have the option to select a configuration that aligns with their specific requirements and riding comfort. Whether you prefer a classic riding style, a step-through frame for easy mounting and dismounting, or a low step-through design for ultimate accessibility, the Mavaro Neo SL aims to provide a personalized solution to urban mobility challenges.
The Mavaro SL boasts a Bafang G020 rear hub motor with 45 Newton-meters of torque and a user-friendly handlebar screen for mode selection and range monitoring. This motor provides ample power for urban commuting. It also features an integrated battery design for a sleek look and Suntour's 50mm front fork suspension for a comfortable ride.
The bike offers two tire and wheel configurations: 700c x 50 for standard and step-thru frames, balancing stability and maneuverability, and 27.5 x 2.0" wheels on the low-step frame for maximum comfort. Additionally, MicroShift gears and drivetrain reduce weight while providing a wide gear range for tackling various riding conditions. Overall, the Mavaro SL is designed to deliver a powerful and comfortable urban commuting experience.
The Mavaro Neo SL comes standard with mudguards, a kickstand, a rear pannier rack, and integrated lights, all designed to enhance usability. It boasts a battery range of up to 67 miles, with an optional range extender that can double the range to 120 miles for longer rides. The bike's design includes mounting points on the frame for accessories like a bottle holder. However, the rear pannier rack from Racktime has an 18-kilogram weight limit, suitable for carrying groceries and cargo but not intended for carrying children – something to keep in mind, especially for folks with school drop offs as part of their errands list.
Cannondale offers competitive pricing for the Mavaro Neo SL models, with the Mavaro Neo SL 2 carrying a recommended retail price of £2,200 ($2,675 USD) and the Mavaro Neo SL 1 at £2,400 ($2,917 USD). Both models come equipped with Tektro hydraulic disc brakes, providing reliable stopping power for a secure and controlled riding experience.
Sources: Cannondale, Cycling Electric
Source: Read Full Article