Drivers warned to check treads as bad tyres caused 25 percent of collisions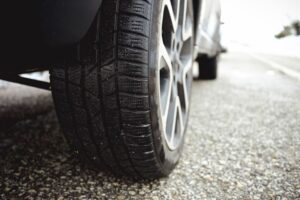 The track day company DrivingExperience.com has revealed that a quarter of vehicle collisions that took place on UK roads during 2022 were caused by poor tyres.
The figures, sourced by the Department for Transport (DfT) noted that the number of collisions due to worn out tyres was lower than during 2021, however it remains one of the most significant causes of casualties and fatalities on the roads.
Dan Jones, Operations Manager at DrivingExperience.com, highlighted why experts regularly check that their vehicle's tyres are in good condition.
He explained: "Our suppliers we worth with on our driving experiences constantly inspect the condition of their tyres, and some cars used on these experiences can get through around 100 of them a year.
"And even though they host these experiences under safe and controlled settings that are away from the major roads, they know more than anyone how vital they are in keeping drivers and other road users safe when it's under real life road conditions.
READ MORE: 'I'm a car cleaning expert – there are four things you should never do'
Whilst the DfT reported that there were fewer collisions on the roads during 2022, the number of fatalities rose to 1,711, an increase of 10 percent in 12 months.
Many experts have highlighted studies which show that vehicles running on tyres which feature treads below the legal limit of 1.6mm take significantly longer to stop.
In addition, motorists found driving a car with worn tyres can face a fine of up to £2,500 and three penalty points on their licence per tyre affected.
Don't miss…
'I dream of the day London is car-free'[INSIGHT]
These are the five most confusing roads in the UK[ANALYSIS]
Nissan snubs Sunak's petrol car ban delay with vow to go all-electric by 2030[REPORT]
We use your sign-up to provide content in ways you've consented to and to improve our understanding of you. This may include adverts from us and 3rd parties based on our understanding. You can unsubscribe at any time. More info
The tyre manufacturer Bridgestone also highlighted that a shocking 81 percent of UK motorists admitted that they do not regularly check their tyres in a recent survey.
According to the company, drivers should check the treads on their vehicles tyres at least once every two weeks or before any long journey.
In addition, it is also widely recommended that motorists also use an accurate gauge to measure the pressure of their car's tyres, which can help to improve fuel economy and prevent blowouts.
Andrea Manenti, Bridgestone's North Region Vice President, explained that it is crucial for all drivers to understand the important role tyres play in vehicle safety.
She said: "We remain surprised that tyres aren't seen as the number one safety device on a car in the minds of so many motorists.
In fact, they are seen as less important than airbags, which often go off as a result of defective tyres. The results show us that there is still a lot of education needed around the topic of tyres."
Source: Read Full Article