Cheaper Kia Ray EV Minicar Returns To Korea With More Range, Power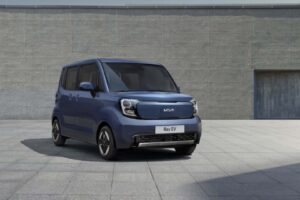 Kia has been one of the forerunners in recent years in the electric vehicle space, but the Korean manufacturer's EV adventure did not start in 2014 with the Soul EV as most people tend to believe.
As a matter of fact, Kia's first production EV launched in 2011 in the form of the Ray EV, a Korean market-only city car that is still produced to this day (more on that later).
Developed specifically to comply with South Korea's "light car" (Gyeongcha) category that offers tax incentives for cars with a length below 3,600 millimeters (141.7 inches) and width below 1,600 mm (63.0 in), the Kia Ray was getting on a bit, despite being subjected to a facelift in 2017. A year later, production ended due to the vehicle's short driving range and the country's lack of charging infrastructure.
But Kia wasn't willing to give up on its smallest EV, which was also Korea's first mass-produced EV at its launch in 2011. Last summer, the automaker unveiled a second facelift for the Ray. While the internal combustion engine-powered version of the car was unveiled exactly a year ago, the EV is only now going on sale in its home market, and it brings significant powertrain upgrades over its predecessor.
The updated model is powered by a CATL-supplied 35.2-kilowatt-hour LFP battery, which has almost double capacity over the previous model's 16.4-kWh pack.
As a result, the Kia Ray EV now offers a manufacturer-estimated combined driving range of 127 miles (205 kilometers) on a single charge, compared to 86 miles (138 km) before. 
The electric motor is also more powerful, delivering 64 kilowatts (86 horsepower) and 108 pound-feet of torque compared to the previous model's 50-kW (67-hp) motor. Charging the battery from 10 to 80 percent takes 40 minutes using a 150 kW DC fast charger, while going from 10 to 100 percent SoC takes 6 hours using a 7kW charger.
"The new Ray EV is set to expand customers' options with a mileage of more than 200 km, optimized driving performance for the metropolitan center and a spacious interior. It's the best choice for customers waiting for an entry electric minicar," a Kia official told Korea Economic Daily.
Kia will begin taking pre-orders for the Ray EV from August 24, ahead of the tiny four-seat EV's official launch on September 12. The facelifted Kia Ray EV starts around $20,800 (27.75 million won), which makes it an affordable city car option for Korean customers. The price is competitive considering that the previous version version of the Ray EV cost 45 million won. 
The automaker also plans to launch a single-seater van version of the new electric city car, which will target the self-employed and small business owners. The Kia Ray is also sold with a 1.0-liter turbocharged gasoline engine.
Industry sources predict that the Kia Ray EV will reboot Korea's small EV and minicar market, likely emulating the Nissan Sakura electric kei car's success in Japan.
Source: Kia
Source: Read Full Article