Cruise's Troubles Continue: Recall, Layoffs, Alleged Issues Detecting Children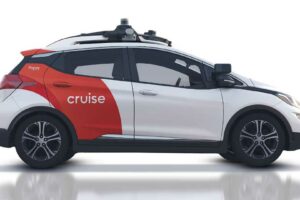 General Motors' Cruise autonomous driving unit just can't catch a break these days. The company has made headlines for all the wrong reasons in recent months, but things have precipitated since early October, when one of its robotaxis ran over a pedestrian who had been previously struck by a hit-and-run driver.
That accident raised a series of questions after it was determined that the Cruise AV dragged the pedestrian 20 feet in an attempt to pull over out of traffic. More flags were raised when it was discovered that Cruise had edited footage of the incident that it submitted to authorities, leaving out the pedestrian dragging part.
This led to a series of cascading events that included an investigation opened by NHTSA into pedestrian risks posed by Cruise robotaxis, the California DMV revoking Cruise's driverless operating permit – which led to Cruise halting all driverless operations across the country – and an announcement earlier this week that Cruise is pausing production of its Origin bespoke autonomous vehicle.
We should also point out that Cruise posted a $732 million loss in the third quarter, although that wasn't surprising since the unit had been hemorrhaging cash since GM bought it in 2016. In the first nine months of this year alone, losses amounted to $1.9 billion.
Think That's Bad? Here's What Happened This Week At Cruise
On November 8, the autonomous driving company said it was recalling 950 driverless cars across the U.S. following the October pedestrian crash, noting that it would likely issue more recalls.
The company said it is recalling the vehicles to fix software for the collision detection subsystem of the Cruise Automated Driving Systems (ADS) software, which may respond improperly after a crash – i.e. by attempting to move out of traffic instead of remaining stationary.
Then on November 9, the General Motors unit announced layoffs among staff who supported driverless operations, aka contingent workers employed by a third party.
The company motivated the layoffs with the fact that driverless operations had been paused or "deprioritized as we focus on supervised driving for the time being," according to an internal message seen by TechCrunch.
Interestingly, during an all-hands meeting on November 6, CEO Kyle Vogt reportedly told employees that layoffs were coming, according to TechCrunch which cited sources who were on the call. However, he suggested the layoffs would start in about three weeks, not immediately. Cruise has approximately 4,000 full-time employees.
Cruise AVs' Algorithm May Have Difficulty Detecting Children
Another serious blow to Cruise came when The Intercept reviewed internal safety documents brought to surface by the federal probe and independent investigations into the company. The documents revealed a major safety flaw, namely that the vehicle's algorithm has difficulty detecting children.
"Cruise AVs may not exercise additional care around children," read one of the documents, in which childred are treated as a special category of pedestrians based on their unpredictability. Moreover, the document said robotaxis may "need the ability to distinguish children from adults so we can display additional caution around."
The Intercept claims that previously unreported internal documents such as chat logs prove Cruise knew that its cars have serious trouble recognizing children in some scenarios, to the point that they risked hitting them. Yet despite that, the company kept its fleet of robotaxis on the road until the pedestrian crash in San Francisco forced it to halt all driverless operations across the country.
Responding to these accusations, Cruise's director of communications, Eric Moser, said the company's robotaxis treat children as a special category of pedestrians because they can be unpredictable.
"We have the lowest risk tolerance for contact with children and treat them with the highest safety priority. No vehicle – human operated or autonomous – will have zero risk of collision," said in a statement for The Intercept.
He added that the risk of a potential collision with a child "could occur once every 300 million miles at fleet driving, which we have since improved upon. There have been no on-road collisions with children."
What Next?
Cruise has tried to address some of the recent events in a November 9 blog post on its website. The company shared updates on some of the initial steps it has taken to improve how it operates.
Besides issuing the voluntary software recall, Cruise said it launched a search for a Chief Safety Officer (CSO), a new role within the company. Until the recruitment process is complete, the role of Interim CSO will be assumed by Dr. Louise Zhang, VP of Safety & Systems, who will oversee the company's safety review and investigations. 
Cruise also said it had hired "an independent, third-party engineering firm to perform a technical root cause analysis of the October 2 incident." The company has also retained law firm Quinn Emanuel "to examine and better understand Cruise's response to the October 2 incident," including how it interacted with law enforcement, regulators, and the media.
Finally, Cruise said it has identified four key areas that can be improved: safety governance; safety and engineering processes; internal and external transparency; and community engagement. 
Will these steps be enough to improve the safety of Cruise robotaxis? Let us know your opinion in the comments.
Source: Read Full Article