BMW Gave Its Kidney Grilles Kidney Grilles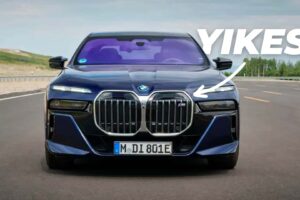 The massive kidney grilles on the current BMW 7 Series – not to mention the M3, iX, and XM – are polarizing among enthusiasts, and that's being generous. Whenever Motor1 publishes a story about these models, it's a safe bet we see a comment from someone complaining about the ostentatious noses. Now, BMW has arguably made the front end even worse as part of improving the 7 Series' technology suite.
The BMW Personal Pilot L3 system is a hands-free driver-assistance system that becomes an option for the German-market 7 Series and i7 in March. This equipment can control the car at speeds up to 37 miles per hour. The tech adds the equivalent of $6,402 (6,000 euros) to a vehicle's price.
Gallery: BMW Personal Pilot L3 – Level 3 automated driving system
This system should make commuting in traffic easier for 7 Series drivers, but the tech does nothing positive for the sedan's looks. BMW has to add ultrasonic sensors, radar, and 3D lidar, and some of these pieces fit into the upper part of the kidney grilles.
There are now inset trapezoidal areas with rectangular sensors on each side of the grille (see below). They make it look like tiny kidneys are on top of the larger ones. The new elements only make the already busy-looking nose appear even more cluttered.
For now, the BMW Personal Pilot L3 is only available in Germany, so we don't have to worry about seeing a 7 Series with this crowded front-end styling on the road. But, this tech could proliferate to other markets eventually.
Beyond their styling, the latest 7 Series and i7 are intriguing automobiles. While the general consensus seems to be that it has an awkward-looking nose, the folks on the Motor1 team with time behind the wheel praise the new sedan. They say you can't see how ugly it is while sitting behind the wheel.
Let us know your opinion in the comments below. It doesn't seem likely, but maybe a few folks out there think the revised grille improves the look.
Source: Read Full Article