Dashcam Footage Shows Dealership Employees Take Customer Corvette Z06 For Joyride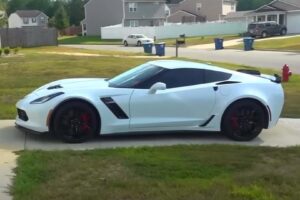 Imagine the shock of discovering that your prized sports car had been taken on a high-speed joyride by dealership employees while it was in for repairs. This nightmarish scenario became a reality for John Parrish of Burlington, who recently watched dashcam footage of his 2016 Chevrolet Corvette Z06 tearing through the streets. While no laws were technically broken, the incident has once again raised concerns about trust, accountability, and customer satisfaction in the automotive service industry.
Parrish was initially left stunned when he reviewed the dashcam video of his 'Vette racing through the streets. The vehicle had been in the shop at Modern Chevrolet of Burlington, undergoing necessary repairs. However, what happened next was anything but routine.
Parrish discovered that two dealership employees had taken his performance sports car on not one but two separate high-speed test drives without his knowledge or consent. It's important to note that while test drives are a standard practice for quality assurance, it's typically conducted with the owner's permission and within reasonable limits.
As if the unauthorized joyride wasn't troubling enough, the story takes another twist. Parrish reported that the dealership had damaged his car while it was in for service, which led to free parts being provided. While the gesture to rectify the damage was appreciated by the owner, he believes it doesn't address the more significant issues at hand. Some people commenting under the video at the top of this page argue that the mechanics responsible for the joyride should be held accountable for their actions, too.
Obviously, we are not here to judge but in our eyes, a genuine apology from the dealership seems appropriate in this case. And if the joyride was performed without the owner's knowledge, and this seems to be the case here, the cost of the gas used and the mileage accrued during the joyride should be reimbursed in one way or another. 
Source: Read Full Article