Drivalia Pursues Strong Growth in Ireland Market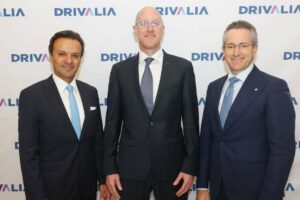 (L to R): Giacomo Carelli, Group CEO of Crédit Agricole Auto Bank Group and Group Chairman of Drivalia; David Wilkinson, CEO of Drivalia Ireland; and Paolo Manfreddi, Group CEO of Drivalia.
Photo: Drivalia
Drivalia, a short and medium-term car rental, car sharing, and mobility company, revealed plans this week to expand its fleet in Ireland by 40% to more than 15,000 vehicles by 2026.
The company, owned by CA Auto Bank Group, will establish a subsidiary, Drivalia Lease Ireland, based in Dublin and led by CEO David Wilkinson. Drivalia has been operating in Ireland since August after it acquired ALD Automotive's operations there.
Drivalia Lease Ireland's offerings will at first focus on operational leasing and fleet management and consolidating its business volumes, which places it as a leader in the Irish market. With backing from CA Auto Bank, Drivalia plans to further strengthen its market position and pursue ambitious growth.
In line with the Group's European strategy, Drivalia Lease Ireland is also considering subscription products, car sharing, and a shorter-term rental business.
"Our goal is to democratize green mobility, making it accessible to the general public," said Giacomo Carelli, CEO of CA Auto Bank and Chairman of Drivalia, in a news release. "We plan that by 2030, 80% of the new vehicles in our total fleet will be green."
Drivalia CEO Paolo Manfreddi added, "Our goal is to become one of the leading players in the new mobility sector, with a strong focus on new energy vehicles. To achieve this, we are investing to strengthen our fleet in Europe, which is set to expand to 300,000 vehicles by 2026, with over half of them consisting of electric and PHEV models. Furthermore, our electric infrastructure is projected to encompass 3,500 proprietary charging stations by the same year."
Wilkinson said, "The launch of Drivalia's solutions in Ireland represents an important step in our pan-European growth strategy. Being part of a banking group with the scale of Crédit Agricole, one of the 10 largest banks in the world, will ensure we can continue to meet future customer needs."
Source: Read Full Article