Drivers hit by 7p a litre jump – the fifth largest monthly increase in 23 years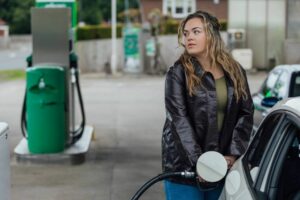 Drivers were hit by one of the ­biggest monthly fuel price rises in more than two decades in August.
The RAC said the 7p per litre spike in the average cost of petrol was the fifth largest monthly increase in 23 years.
And the 8p per litre hike in ­diesel prices was the sixth largest over the same period.
Rising pump prices are being caused by an increase in the cost of oil, which has gone up by nearly $12 a barrel since the start of July to nearly $87 due to producing group Opec+ ­reducing supply.
This led to the wholesale cost of fuel – what retailers pay – going up, which has been passed on to drivers
at forecourts nationwide.
READ MORE First look inside stunning new Mercedes EV that rivals your petrol car
RAC fuel spokesman Simon Williams said: "August was a big shock to drivers as they had grown used to seeing far lower prices than last ­summer's record highs.
"Seeing £4 or more go on to the cost of a tank in the space of just a few weeks from a pump price rise of 6-7p a litre is galling, particularly for those who drive lots of miles or run an older, less fuel-efficient car.
"While the increase is clearly bad news for drivers, it could have been far worse had the biggest retailers not let their inflated margins from ­earlier in the year return to more ­normal ­levels as wholesale fuel costs
went up.
"All we can hope is that this move by many big retailers back to fairer forecourt pricing remains when wholesale costs go down again. Only time will tell."
In July the Competition and Markets Authority said the rise of pump prices since 2019 was due to a "a decision by the traditional price leaders to compete less hard." Supermarkets took the step of ­bringing prices down by half a penny during August compared to company-branded retailers – but diesel costs soared at a similar level.
The situation led Asda to publish fuel prices at its pumps online – it was the first supermarket to do so.
A voluntary scheme has been touted for other supermarkets to ­follow suit.
European gas prices also went up by nearly a fifth as Australian workers prepared to strike if no deal is reached in pay talks on Wednesday.
We use your sign-up to provide content in ways you've consented to and to improve our understanding of you. This may include adverts from us and 3rd parties based on our understanding. You can unsubscribe at any time. More info
Source: Read Full Article