New 2024 Volkswagen Passat unveiled as premium family estate car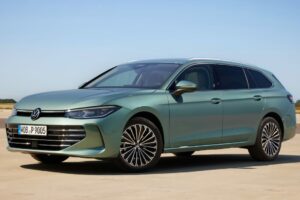 The ninth generation VW Passat will be available as an estate-only rival to the BMW 3 Series Touring and Mercedes C-Class Estate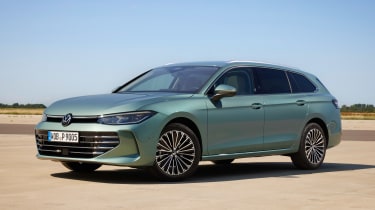 The world might be moving towards SUVs, but Volkswagen isn't about to throw away 50 years of history (not to mention 30 million sales) when it comes its iconic Passat family car, and has unveiled a new ninth-generation model boasting more premium materials and an upgraded plug-in hybrid drivetrain that offers more electric range, without compromising space and practicality – which has also been boosted in this latest model.
The new Volkswagen Passat will only be available as an estate, and with its sleeker looks will also now occupy the space in VW's line-up previously occupied by the Arteon Shooting Brake, and the sleeker design of this new B9 Passat shows this. The long body, sharp lines and smooth face offer a slicker look, while at the rear there's a full-width light bar as per many of VW's latest cars, such as the recently updated T-Cross small SUV. Passat is now spelled out in letters on the tailgate, too.
Top 10 best estate cars to buy 2023
Go for R-Line trim and there's a sportier look, with a deeper front bumper that features more black plastic and up to 19-inch wheels available. The long, low, smooth look helps boost aerodynamic efficiency too, with a drag coefficient of 0.25Cd compared with its predecessor's 0.31 claim.
Compared with the outgoing car, the new Passat offers a massive amount more practicality, too. It's 144mm longer, with 50mm of that increase due to a longer wheelbase. We sat in the rear of the new Passat ahead of its unveiling and can confirm that there's huge legroom on offer – much more than the previous car – while boot space stands at 690 litres with the rear seats in place, 40 litres more than the eighth-generation model. Fold the seats down and this rises to 1,920 litres, 140 more than its predecessor.
A big bonus is that there's no compromise in boot space when opting for the newly updated plug-in hybrid powertrain either. There are two PHEVs on offer, with outputs of 201bhp or 268bhp. Both powertrains use a 1.5-litre turbocharged four-cylinder petrol engine mated to an electric motor fed by a 19.7kWh battery; the pack is the same physical size as in the previous Passat eHybrid, but its cells are more energy dense in the new car to provide up to 62 miles of all-electric running, the brand claims. VW says that with petrol and electric power sources combined, the Passat eHybrid's range stands at more than 620 miles.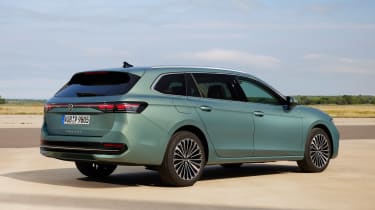 For the first time the eHybrid will also offer DC rapid charge compatibility, with the battery able to accept a 50kW feed. This means a 10 to 80 per cent top-up will take around 25 minutes, while a new 11kW on-board charger means home top-ups can take as little as two hours.
Alongside the PHEV pairing, buyers can choose from a 148bhp 1.5-litre eTSI 48-volt mild-hybrid motor with 250Nm of torque and "enhanced Active Cylinder Management". Along with the potential for coasting, this will improve efficiency.
Two 2.0-litre four-cylinder turbo petrol engines will be offered, with a choice of 201bhp and 261bhp, both with 4MOTION four-wheel drive. Diesel options are covered by 120bhp and 148bhp front-wheel drive 2.0 TDI engines, while the more powerful 190bhp model comes with 4MOTION four-wheel drive as standard, allowing for a maximum towing weight of up to 2,200kg. All Passat models will only come with an automatic dual-clutch gearbox (six-speed for plug-in models, seven-speed for everything else); no manual will be available.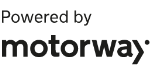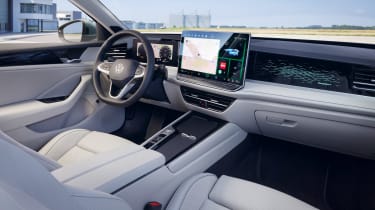 All models get a 10.25-inch digital dash fitted as standard that features four configurable displays, while there's a new head-up display available.
Physical buttons make a return to the steering wheel, while the drive selector has been moved to the steering column (like in VW's ID. models) to free up more storage space on the centre console, which offers a pair of cup-holders and plenty of bins and cubbies.
VW has enhanced its MQB evo platform with new features such as DCC Pro adaptive suspension dampers that are linked to the car's Vehicle Dynamics Manager and driving mode selection. DCC Pro-equipped models feature two-valve dampers with faster acting software and hardware to improve ride quality and handling, with VW claiming the Passat is better to drive at the more dynamic end of the spectrum, and also offers premium levels of comfort – and VW is explicitly targeting the likes of Audi, BMW and Mercedes with this new Passat.
On this front, there's a range of premium-level gadgets too, including IQ.Matrix LED headlights, Park Assist Plus and Park Assist Pro. Park Assist Plus is a familiar VW system that allows driving into or out of spaces automatically, while the latter is capable of this with the driver not sitting in the vehicle, possible thanks to the car's capability to remember the last 50 metres of its journey. The usual level of driver assistance and safety tech is on offer, too.
This boost in space, tech, efficiency and quality means the Passat will also likely rise in price for this ninth-generation model. It will start from 39,995 euros when it goes on sale in February next year in Germany, so expect an increase over the most affordable outgoing model – the £35,395 1.5 TSI Evo 150 SE Nav DSG – when it goes on sale in the UK around the same time. Deliveries will follow in spring.
Click here for our list of the best executive cars on sale right now…
Source: Read Full Article