EV owners share their frustration of home chargers as satisfaction rates fall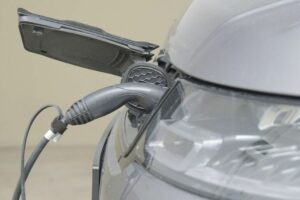 A growing number of electric car owners are unhappy with their charging experiences, according to the automotive review site J.D. Power.
A recent study published by the company found that only 74 percent of owners were satisfied with home charging in 2023, a decrease of 12 percent compared to the previous year.
Brent Gruber, executive director of the EV practice at J.D. Power highlighted the importance of using a high-quality home charger.
He said: "Whether you're an automaker, dealer or utility company participating in the EV ecosystem, improving the EV owner experience with respect to home charging should be a common goal shared by all.
"As the EV marketplace continues to grow, brands that help their owners take advantage of these offerings will be in a much better position down the road."
READ MORE: Half of older drivers worry about making basic mistakes on the road
Prices for electric vehicle home chargers typically range from £800 to £1,600. Some bays are tethered to the wall while others simply require users to plug them into a standard socket.
Additionally, different models can charge at varying rates, with the fastest chargers being classed as Level 2 units.
However, whilst they are less powerful than public EV chargers, some owners are concerned that the higher levels of power they require could be driving up their energy bills.
Don't Miss…
Little-known law landing drivers with massive £5,000 fines [REPORT]
'I've been a mechanic for 55 years – check for fault now or face thousands in repairs' [INSIGHT]
Simple hack to increase fuel economy saves drivers £468.40 on petrol a year [ANALYSIS]
According to J.D. Power's study, 83 percent of electric vehicle owners use a Level 2 charger, with 68 percent stating that theirs is connected to a wall.
However, despite Level 2 offering some of the highest charging speeds available for home chargers, many owners are still displeased with how long it takes to fully charge their vehicles.
Whilst it will vary considerably depending on the vehicle, Level 2 home chargers can typically take between four to 10 hours to fully charge a battery.
We use your sign-up to provide content in ways you've consented to and to improve our understanding of you. This may include adverts from us and 3rd parties based on our understanding. You can unsubscribe at any time. More info
However, some electric vehicle drivers have found a way in which charging can be made somewhat cheaper.
Many of the latest home chargers allow owners to set a timer, which will only send power to the battery during the night to take advantage of cheaper electricity rates.
The study also noted that chargers manufactured by Tesla had the highest satisfaction rating, with a score of 790 out of 1,000.
Source: Read Full Article