4th gen Honda City owner shares honest observations on the Elevate SUV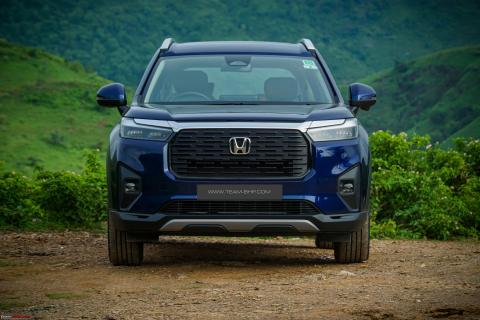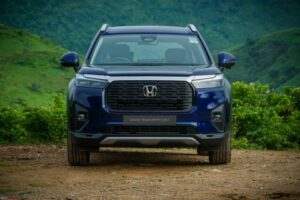 Honda could have provided magic seats, like the original Jazz. That would have been a huge differentiator.
BHPian Shreyans_Jain recently shared this with other enthusiasts.
Checked out the Elevate at the showroom over the weekend. Here are the initial impressions:
Styling is sharp and on point. Looks different, in a good way. Me and wifey both liked it.
Doors are pretty light and flimsy. Sound hollow when closing. Exactly like my Gen4 City, and not as confidence inspiring as the Gen5 parked next to it.
Front seats are superb. Adequate height, superb cushioning and excellent lumbar support.
Driver's ergonomics are good. Everything felt easy to hand. However, the center armrest is non adjustable and absolutely useless. Visibility out is good.
Like how they have carved out a large phone holder cum wireless charger slot into the Center console.
The new center display screen is a HUGE improvement over the old Honda systems. Still, nowhere as good as that of Seltos or Creta.
Quality of materials of the dash is a huge let down. Dull and scratchy, again exactly like the Gen4. AC vent adjustment knobs are unlikely to last beyond a few months. Steering wrap material feels cheap to hand. AC adjustment knobs are clicky and plasticky. The Gen5 City cabin and material quality is far superior. Seltos cabin and material quality is far superior.
Marginal cladding on the front wheels arches, a clear step down from the Gen 5 City. No cladding for the rear wheels in either car.
No rubber beading on the doors, front and back. Honda had made this blunder on the Gen4 City, and were swamped with complaints of water leakage into the cabin. They had corrected with on the Gen5, which comes with proper 3 layer beading. Evidently, they have gone back to their old ways.
No felt lining or any insulation of any kind in the boot area – the wheel well. Expect road noise to be high and overall insulation poor.
Back seat is very comfortable for 2. Cushioning is on point, and space is good. But cabin width is less. Elevate cabin is definitely half a size smaller than Seltos or Compass cabins.
Adjustable rear headrests are well placed and supportive. The rear armrest is actually usable and does not fall down to the seat base like it does in the City. Window sun shades are a huge miss – available on both Creta and Seltos.
Despite the high window line, cabin does not feel claustrophobic. Wife is short, but she did not feel hemmed into the rear seat, like she does in so many cars, including City.
Honda continues to use that stupid cardboard piece as headliner. It belongs in cars like Alto and WagonR, not in City and Elevate. Remember the criticism Slavia and Kushaq got for using a cheap cardboard headliner initially? It is applicable here as well.
Overall sound insulation of the car felt pretty poor. Could hear the kids running around in the showroom. Again, Gen4 City flashbacks.
All seats are placed at a very good height. You walk into the car and walk out of it. Full marks for ease of ingress and egress.
Honda could have provided magic seats, like the original Jazz. That would have been a huge differentiator and added to the practicality quotient. Missed opportunity.
Boot space is about par for the course.
Lack of hybrid option is inexplicable. I would have booked it, had this been available.
Overall, while Honda seems to have made a decent product, there is plenty of cost cutting that is visible to any existing City owner. The car reeks of the Gen4 City and Amaze, and many hard learnt lessons have clearly not been heeded to here. The salesperson recognised me as a regular visitor (my cars have been serviced there for over a decade now). He agreed with the criticism and said "Sir wait for the price. All your complaints will go away after seeing the price". I'd better hope so, for if this is priced even close to Seltos, it will be a hard sell. And had they offered the hybrid, it would have just killed the overpriced GV and Hyryder hybrids.
Check out BHPian comments for more insights & information.
Source: Read Full Article