Gunther Werks Touring Turbo Debuts With Air-Cooled Flat-Six, Ducktail Spoiler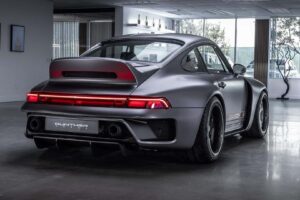 Gunther Werks, the California-based specialist that restores and reimagines Porsche 911s, revealed its latest creation at this year's edition of The Quail, a Motorsport Gathering.
It's called the Touring Turbo Edition Coupe and, as Gunther Werks puts it, it's a 993-based restoration, which means this is still a Porsche 911 at heart, albeit heavily modified with the firm's signature additions.
For starters, the original air-cooled flat-six has been replaced with a custom-built, twin-turbocharged 4.0-liter waterless powerplant made by Rothsport Racing, mated to an original Getrag six-speed manual transmission that went through an extensive overhaul that includes fitting new, bespoke ratios.
The brand-new flat-six makes an impressive 750 horsepower, all of which goes to the rear wheels. That's 50 hp more than the maximum output of the Turbo project on which it's based, revealed last year at the same event.
Besides the extra power, the new variant comes with a carbon fiber ducktail rear wing which guarantees optimal airflow to the rear-mounted air-cooled lump, as well as offering a more restrained look compared to the standard Turbo wing that Gunther Werks offers for its commissions. Interestingly, the ducktail spoiler – which is an optional addition to the standard turbo wing – comes with a dedicated carrying case.
Gallery: Gunther Werks Porsche 911 (993) Touring Turbo Edition Coupe
Details are scarce, but seeing how this latest build is based on the company's twin-turbocharged Project Tornado, we assume that the ducktail-equipped Turbo comes with carbon fiber body panels which cut about 500 pounds off the weight of the original car, a nose lift system that's activated by pushing a button on the steering wheel, carbon fiber seats, and rear fenders with integrated ram-air intakes.
Last year, Gunther Werks said that it will only ever build 75 units of its Turbo program, so prospective customers should move fast if they want a piece of the modernized Porsche 993 pie. Pricing hasn't been announced, but by the looks of it, the saying "if you have to ask, you can't afford it" could be a good fit.
In related news, German Porsche specialist Ruf revealed its Tribute one-off at The Quail. Featuring an all-new air-cooled flat-six engine, the Porsche 911 lookalike features a bespoke carbon fiber tub chassis and custom-built carbon fiber body panels. It looks like a 993-gen 911 but looks can be deceiving.
Source: Read Full Article