Toyota Veloz MPV now with optional bodykit, RM3,300 – paultan.org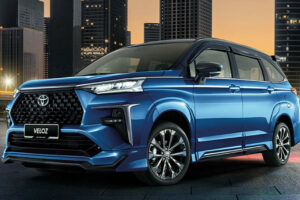 The Toyota Veloz looks pretty bold, don't you think? It certainly does to me, and there's no mistaking it for twin sister Perodua Alza from the front, and even from the side, due to its big wheels and more normal ride height (for an MPV, the Alza sits very low). Also, the Toyota's rear end gets a full width LED tail lamp strip that goes all the way to the logo.
But if you wan't to further stand out (from other Veloz owners perhaps), UMW Toyota Motor is now offering an optional bodykit for the Veloz. According to the official list, the 'aerokit' package consists of a front bumper spoiler, rear bumper spoiler, side door cladding and a roof spoiler. Five pieces in total, and the price is RM3,300.
The extensions look rather substantial, and the front chin has a black lip to contrast with the body colour, which is the Veloz's signature blue in these pictures. The side skirts are also in two-tone, with the addition of a chrome strip. Likewise the rear bumper extension, which looks very layered and has what appears to be 'exhaust' cutouts; this is despite the actual single pipe poking through.

If that's on the dramatic side, check out the aerokit's fifth piece. The roof spoiler is raised from the roof line, which will be extrovert if it was on a hot hatch. On a family MPV, we've never seen such a bold rear spoiler from the factory before. Before you mock it though, think of Perodua's GearUp bodykits – OTT and even ugly to some, but well-received by buyers.
Here's another observation. Toyota emphasises the Veloz's 190 mm ground clearance, which is 30 mm higher than the Alza's. The different GCs are deliberate, and are USPs for each of the twins – car-like easy entry (and for me, good looks) for kids and the elderly with the Alza, and more SUV-like robustness/visibility for the Veloz. This bodykit goes back the other way with a more lowered look.
Once again, the five-piece aerokit is priced at RM3,300 on top of the single-spec Veloz's RM95,000 on-the-road without insurance price. The total then is RM98,300, and you can also add on a rear dashcam for a further RM380. What's the difference between this and the Alza, and is the Veloz worth the RM20k premium UMWT is asking? Answers in our video review.





GALLERY: 2023 Toyota Veloz
































































































































































Looking to sell your car? Sell it with myTukar.
Research Toyota Cars at
2019 TOYOTA HILUX L-EDITION 4X4 2.4L
2019 TOYOTA VIOS E 1.5L
2019 TOYOTA C-HR 1.8L
2018 TOYOTA C-HR 1.8L
2018 TOYOTA C-HR 1.8L
2018 PERODUA AXIA AV 1.0L
2020 PERODUA BEZZA AV 1.3L
2016 VOLKSWAGEN VENTO 1.6L
2019 HONDA JAZZ V 1.5L
2021 PROTON X50 TGDI FLAGSHIP 1.5L

Source: Read Full Article