Harley Davidson Nightster 975 Malaysian Bike Review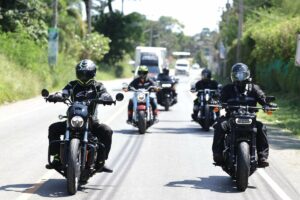 For Asian riders, Harley-Davidson (H-D) is offering the Harley-Davidson D.R.T. Experience as part of their customer engagement. For the uninitiated, D.R.T. stands for Dirt Road Track and allows you to sample a selection of H-D's new motorcycle models and best sellers.
Covering a day, riders take H-D motorcycles across three different environments, the aforementioned dirt, road and track. In paultan.org's case, we were flown out to Thailand and given the chance to ride the Pan America, Fat Bob, Sportster and Nightster, albeit for all too short a time.
In this instance, D.R.T. was held at 8 Speed Khao Yai, Thailand, a small track set in the middle of the Khao Yai national park area. On the day, riders are introduced to their ride guides and activity schedules are laid out.
This includes a road ride, a quick visit to the gate of the Khao Yai national park and back, a session on the track, and a quick sprint in the dirt. Our D.R.T. experience started with the road segment riding out on the Nightster 975 and the Fat Bob on our return to 8 Speed Khao Yai.
The track segment comprised of chance to ride two different street bikes – the Sportster and Nightster – on the very short go kart sized circuit. This was rounded out with a sprint section in the dirt with a nice uphill-downhill segment that challenged the rider's bike handling skills.
That the Pan America, despite its heft and weight, handled this short course well, is a testament to H-D's first adventure-touring effort while we had previous experience with the Fat Bob in Spain pre-Covid. Those were the Harleys we rode, and the course riding we sampled, but what of the bikes themselves?
Of particular interest to the author was the Nightster 975, the "replacement" for the Bronx streetbike promised some years ago. In H-D's corporate wisdom, the Nightster, with its traditional American cruiser/dragster styling, was deemed a better market replacement that the more conventional Bronx.
With the Revolution Max V-twin engine, also used in the Pan America, the Nightster is supposed to bring in a new crop of younger riders into the H-D brand, with a hoped for uptick in sales. We have no idea if this will work, but what we can tell you is H-D has finally taken to heart what a modern motorcyclist wants.
And what a modern motorcyclist wants is a motorcycle that handles, is comfortable, easy to handle and, here's that oft used word, performs. Which the Nightster 975 had, within its performance envelope.
Although the time we had with the Nightster was much to short, we could see where H-D engineers have put in effort to make it move like a motorcycle. No issues with handling or braking, both of which are well up to current standards for a present day road bike.
No, we don't suggest you do things like chase a Ducati Monster or Suzuki GSX-8S with the Nightster 975. Doing so will leave you somewhat… left behind… because the Nightster still carries a 210 kg wet weight.
Not good for a naked sportsbike, but not bad either and well within norms for a litre-class bike. Don't get us wrong, with 90 hp, the Nightster acquits itself well in the statistics for its class.
What does count against it is the long wheelbase and sheer momentum of that chunky front tyre. That 19-inch front wheel with 100/90 front tyre might have been all the rage in 1978 but today a 17-inch front wheel fitted with sports rubber is preferred (because it grips better and provides way more feedback.)
As for the 16-inch rear, we had no arguments about comfort or grip but did raise the question of tyre size availability especially when the rider lives further away from urban centres. It is understandable H-D chose these tyre sizes though, to be in keeping with its brand specific design language, so we'll have to give it a pass.
Handling wise though the Nightster is not the light, flickable thing we've come to expect from today's motorcycles despite what H-D says on its website. The Nightster puts us in mind of an 80s sportsbike, with steering inputs needing to be firm, methodical and planned out in advance.
If you're expecting the sharp handling of a Triumph 765RS or Yamaha MT-09, you're going to be disappointed. The steering is not ponderous compared to, say, an Ultra Glide, but a firm hand is required at the handlebars.
The riding position itself is relatively normal, with mid-mounted foot-pegs and upright handlebars. The low 705 mm seat height places riders in a foot flat position on the ground though those with longer inseams might want to look elsewhere in H-D's range.
Meanwhile, the handlebars will pull shorter armed riders somewhat forwards with regards to torso position. Some may like it, some not, but for the author, while the torso forward seating is familiar the extra low seat height was something of a mismatch.
Something like the upper body is in the proper sportsbike riding position but the lower body is relaxed for cruising. Again, some may like it, some won't, so try the Nightster on for size and see for yourself.
For instrumentation, things are very minimalist, in the typical H-D style, a single round 4-inch gauge displaying all the necessary information with analogue speedometer and digital tachometer. For the multi-focal wearing author, this made things rather busy with the myriad of lights but it bolted down to where the speedometer needle was pointing and gunning the throttle.
Speaking of gunning it, the Revolution Max engine is all new tech. Liquid-cooled four-valve heads are chain driven. This places a rev limit of 9,700 rpm but here's the little thing most people forget about Harleys.
H-D bikes have always been known for their grunt (save the tractor jokes please, we've heard them all) and with judiciously chosen gear ratios, the Nightster will lug it along then rocket forward with any Harley you care to mention. Maybe a little perkier than the traditional H-D chrome laden barge, but it will build up speed in an interesting manner.
We did find a little trough where fifth gear was too low and four was too high in terms of engine speed, but this was easily ridden around, reserving sixth as an overdrive as the Thai roads we were riding were a little narrow and crowded for true throttle wide open shenanigans.
So, what do we think of the Nightster in our short time with it? For one thing, we'd like a lot more time with it, because there are things we liked about it like the major reduction in engine vibration. Harley purists are now going to scoff, "that ain't no Harley, hurr, hurr, hurr, that's a girl's bike."
Well, the thing is, H-D needs a new rider demographic, that much is obvious from reports not only in the media but from H-D's own corporate reports. So, what we get is the Nightster 975 and in this role, it does tick some of the right boxes.
The low seat will appeal to less experienced riders and those who find trying to balance a bigger, heavier bike on tip-toe a chore. The traction control and ride modes makes controlling the power a no-brainer provided you trust in the electronics and which rider doesn't, these days? I know I do despite 42 years of riding.
Will be the sales success H-D needs only time will tell. Suffice it to say, if the current crop of naked sports from the established manufacturers leaves you cold and you march to the beat of a different drummer, take a look at the Nightster 975. You'll be pleasantly surprised.
























Looking to sell your car? Sell it with myTukar.
Source: Read Full Article