'I'm a car cleaning expert – there are four things you should never do'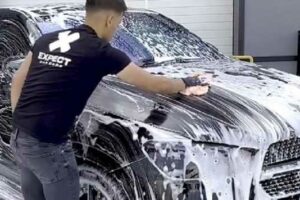 Whilst few enjoy spending their free time washing their car, an automotive influencer has revealed the best ways to get a vehicle clean without causing any damage.
Expect Car Care, a detailing expert from the Netherlands, regularly posts short videos to his TikTok page, showing his cleaning process on various high-end cars.
In one of his videos, he told motorists that they should always begin to wash their car by focusing on the wheels.
Because the wheels are often the dirtiest part of the vehicle, drivers should start by cleaning them with a hose pipe or a pressure washer, before using a brush with soft bristles to avoid scratches.
Later in the video, the detailer added that motorists should try to avoid touching the paintwork before pre-washing the body, which could leave oily substances on it.
READ MORE: 'I dream of the day London is car-free'
Another tip from Expect Car Care was to never apply cleaning foam or use a pressure washer in a circular motion.
Whilst many motorists believe this will thoroughly clean the car, many experts say the motion should be avoided to prevent swirl marks.
Instead, drivers are advised to wash and dry parts of their car in straight lines, which will not only protect the paintwork but better ensure that car shampoo is applied in a consistent way.
Don't miss…
'I'm a driving expert – doing this at night could lead to a £5,000 fine'
These are the five most confusing roads in the UK
Drivers can warm their cars in under a minute with one button
We use your sign-up to provide content in ways you've consented to and to improve our understanding of you. This may include adverts from us and 3rd parties based on our understanding. You can unsubscribe at any time. More info
The detailer added that by following the tips, they can help to protect the paint of their vehicle for many years to come.
He explained: "Doing all of this will make sure you minimize micro-scratches and will keep your car looking good."
Whilst small blemishes in the paintwork may only be noticeable with close inspection, they can deteriorate and eventually ruin the look of the vehicle.
Upon sharing his tips, the detailer from Expect Car Care received over 117,000 likes and nearly 20,000 bookmarks, with many viewers sharing their tips for cleaning cars.
One commented: "Never wash your wheels when your brakes are still hot."
Another said: "I'll wash my wheels last with a different sponge. If I do them first, I'll have to clean them again when the dirt washes on to them."
Source: Read Full Article