Jessica Hawkins makes F1 test debut with AMR21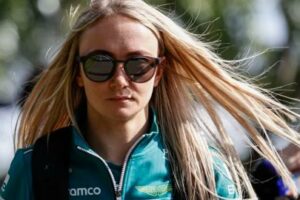 Hawkins is a 28-year-old British Karting Champion and raced in the Formula Three-level W Series.
Jessica Hawkins, Aston Martin's Driver Ambassador, has made her test debut by driving the team's 2021 F1 car at the Hungaroring.
Hawkins is the first female driver in almost five years to test an F1 car, following Tatiana Calderon, who drove Alfa Romeo's 2018 car in Mexico, post the Grand Prix. She follows in the footsteps of Susie Wolff – the last woman to take part in an official F1 session, driving at FP1 on the Silverstone circuit in 2015.
Jessica Hawkins drove the AMR21 a total of 26 laps around the Hungaroring. Robert Sattler, F1 Evolution Programme Director, stated that the session was initially held up by heavy rains; however, once the track dried up Hawkins was able to "match the reference lap speeds." He added that she was flawlessly able to manage the F1 car's complexity and also offer feedback which was precise and correlated with the data.
Mike Krack, Aston Martin F1 Team Principle, added, "We were really impressed by Jessica's preparation for the test – she worked incredibly hard with our simulator team and that made it an easy decision to put her in the AMR21." He further stated, "This has been a hugely significant moment in Jessica's journey with AMF1 Team and I am pleased we could give her this next step in her development journey by testing a modern Formula One car."
Jessica Hawkins also commented on her debut, stating, "It's taken me every bit of blood, sweat and tears to get here. When I first heard it might be a possibility, I could hardly believe it. I've had to keep it secret for months now – which was pretty hard! It's been absolutely worth it and it's given me really valuable insight. Nothing will compare to the acceleration and braking of a Formula One car and, having looked at the data, I'm really proud of my performance."
Hawkins is a 28-year-old British Karting Champion and raced in the Formula Three-level W Series. She joined Aston Martin as a Driver Ambassador in 2021 and has also worked as a James Bond movie stunt driver.
Source: Read Full Article