'I'm a car expert – pressing these key fob buttons can keep the interior cool'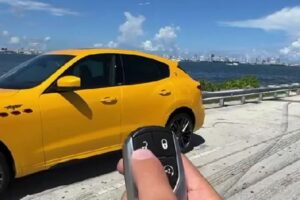 As the UK experiences a heatwave, with temperatures in some areas expected to reach 32 degrees, many Britons may be in for a shock when getting behind the wheel.
However, the YouTuber @itsCamCasey has told drivers that they can cool down their car before setting off by following a simple tip.
In one of his latest videos, Casey explains that many car owners can lower their vehicle's windows by simply holding down a couple of buttons on their key fob.
He said: "With the vehicle turned off, with the vehicle locked or unlocked, you can press down twice and hold on the second press of the unlock button and you will see that the windows will automatically fold down.
"So, we're in the hot Miami heat and say you need to roll your windows down, you can simply just press unlock and then you press and hold on the unlock here and look at that your windows will completely roll down so your car can cool off."
READ MORE: TikTok user finds hidden button that makes everyday job easy and quick
When the unlock button is pressed twice, all of the car's windows will automatically roll down, allowing the air to escape.
Whilst Casey demonstrated this trick by using a £60,000 Maserati Grecale, many more popular family cars also have this feature.
In order to check if their car has remote controlled automatic windows, along with a more detailed method on how to use them, motorists are advised to read their owner's handbook.
Don't miss…
'I'm a car expert and I'm sick of hearing this misconception about tires'[REPORT]
'I had a £44k Tesla – I sold it after eight months due to a nightmare issue'[INSIGHT]
Parking your car under a tree could cause thousands of pounds worth of damage[ANALYSIS]
We use your sign-up to provide content in ways you've consented to and to improve our understanding of you. This may include adverts from us and 3rd parties based on our understanding. You can unsubscribe at any time. More info
However, the ability to roll down a vehicles windows without being inside is more than an amusing trick.
Due to the large amount of glass used, it does not take long for a vehicle to reach high temperatures that can damage trim and increase the risk of drivers and occupants feeling nauseous when setting off.
Various studies have noted that, when a car is parked in 22-degree heat, temperatures inside the vehicle will have reached 47 degrees within an hour.
Trying out the trick for themselves, many viewers commented stating that it worked with their model.
One motorist wrote: "My 1999 [Mercedes] Benz does this and it opens the sunroof too!"
Another added: "I had an 08 Skoda Octavia with the same feature."
Source: Read Full Article