These 10 cars retain their value best when it comes to reselling your vehicle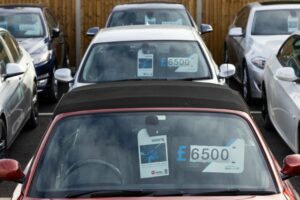 The vehicle finance organisation Moneybarn has revealed the ten cars with the lowest rates of depreciation in the UK.
As the cost-of-living crisis continues to affect motorists, few want to find out they've lost thousands when they come to sell their vehicle.
According to the report, the two best cars for avoiding depreciation are the Abarth 595 and the Suzuki Jimny, with both models losing 2.12 percent over three years.
A hot hatchback version of the Fiat 500, in 2020 the Abarth 595 retailed at £23,895, with typical used models currently selling for £23,389, a loss of just £506.
However, at £15,999, the lower price of the Suzuki Jimny off-roader means that it lost the smallest amount of money, shedding £339 in three years.
READ MORE: 'I'm a car expert – pressing these key fob buttons can keep the interior cool'
The report also noted that high-end models tended to keep their value, with the Mercedes-Benz A-Class losing just 2.55 percent of its value in the time period.
Additionally, whilst the 211mph-capable Aston Martin Superleggera came fourth, it's £225,000 retail price in 2020 means that buyers have lost a substantial £5,774.
Nevertheless, some of the most popular models also featured in the top ten, with the Mini Hatch and Volkswagen Polo holding their value.
Don't miss…
'I'm a mechanic – I hated working on these six cars'[INSIGHT]
Three crucial tips to pass your driving test including one app that is 'so good'[ANALYSIS]
Only two major UK theme parks have electric car chargers, new report finds[DEVELOPING]
We use your sign-up to provide content in ways you've consented to and to improve our understanding of you. This may include adverts from us and 3rd parties based on our understanding. You can unsubscribe at any time. More info
Top ten cars with the lowest depreciation rates:
1. Abarth 695 – 2.12 percent (£506)
2. Suzuki Jimny – 2.12 percent (£339)
3. Mercedes-Benz A-Class – 2.55 percent (£590)
4. Aston Martin DBS Superleggera – 2.57 percent (£5,774)
5. Range Rover Sport – 2.98 percent (£1,931)
6. Jeep Wrangler – 4.3 percent (£1,933)
7. Mini Hatch – 4.31 percent (£685)
8. Subaru Levorg – 4.62 percent (£1,386)
9. Volkswagen Polo – 4.75 percent (£715)
10. Ford S-Max – 5.07 percent (£1,441)
Whilst the Range Rover Sport was the fifth-best car for holding its value, Moneybarn also noted that another JLR product was the worst.
According to the study, the Jaguar XF has the fastest depreciation rate, with prices typically decreasing by 68.31 percent in three years.
Additionally, the all-electric Renault Zoe was the second-worst car for depreciation, with three-year-old examples losing, on average, 39.4 percent.
Source: Read Full Article