Lotus Eletre EV price up to RM50k more in Malaysia – Eletre S fr RM698k; Emira up RM83k, fr RM1.095 mil – paultan.org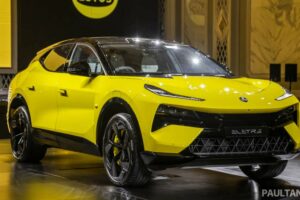 Lotus Cars Malaysia has updated the pricing of the Eletre and Emira, with both models costing more due to developments of the Malaysian ringgit against all major foreign currencies in recent months, the company noted in its release.
Starting with the Eletre, which was launched back in April this year, the brand's first fully electric SUV now retails at RM698,000 on-the-road without insurance for the Eletre S, up RM50,000 from before. Meanwhile, the range-topping Eletre R is RM40,000 more at RM838,000. As for the base Eletre, there's no new pricing available as this variant will not be available until at least 2025 – the entry-level option was originally listed at RM578,000.
Moving on to the Emira, the two-seat sports car is only available in First Edition guise and with two engine options. The first is a 3.5 litre supercharged V6, which is paired to either a six-speed manual or automatic transmission.
In Peninsular Malaysia, the Emira V6 First Edition with a manual is now priced at RM1.289 million OTR without insurance (up from RM1,205,800), while the automatic is RM1.309 million (RM1,225,800). Over in duty-free Langkawi, the V6 manual variant of the Emira retails for RM529,000 (up from RM478,800) and the automatic has been bumped up to RM539,000 (up from RM493,800.
The Emira i4 First Edition which was announced for our market last month sees no change to its pricing and continues to retail at RM1.095 million in Peninsular Malaysia and RM509,000 in Langkawi – this is effective as of September 1. Units manufactured in 2023 are available at a special introductory price of RM998,800, although these are limited and available on a first-come, first-served basis.
A summary of the new prices are as follows:
Eletre: N/A
Eletre S: RM698,000 (+RM50,000)
Eletre R: RM838,000 (+RM40,000)
Emira i4 First Edition: RM1.095 million (Peninsular Malaysia), RM509,000 (Langkawi)
Emira V6 First Edition manual: RM1.289 million (+RM83,200; Peninsular Malaysia), RM529,000 (+RM50,200; Langkawi)
Emira V6 First Edition automatic: RM1.309 million (+RM83,200; Peninsular Malaysia), RM539,000 (+RM45,200; Langkawi)
Looking to sell your car? Sell it with myTukar.
Research Lotus Cars at

Source: Read Full Article