Mazda Says "Very Cool" MX-5 Miata Special Editions Are Coming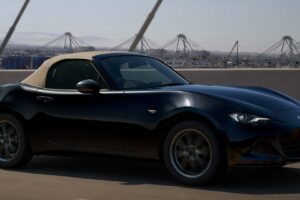 Having introduced the ND3 MX-5 in Japan last month, Mazda is indirectly saying the current generation of the little sports car is sticking around for a couple of years, if not even longer. In an interview with CarsGuide, Shigeki Saito, the Miata's Program Manager, revealed the fourth-gen model is not going anywhere: "For as long as possible we'd like to keep ND, and then of course we'd like to satisfy compliance with so many regulations."
When inquired about a potential launch date for the next-generation model, Saito gave the impression that it's not coming anytime soon: "We don't have any specific timeframe." He explained Mazda is in no rush to replace the current car because electrifying the roadster would make it too heavy to live up to the Miata's lightweight ethos. Ideally, the Zoom-Zoom company wants to wait for batteries to get smaller and lighter before launching an electric MX-5.
2024 Mazda MX-5 Miata (JDM)
In the meantime, the ND3 is not the last update planned for the current MX-5. Saito revealed that plans are already in motion "to make something very cool." He went on to mention the Japanese automaker is "thinking about cool special editions." He didn't go into any details, but we wouldn't exclude a 35th anniversary model in 2024 considering the NA went on sale in 1989. In 2014, there was a special edition to mark the 25th anniversary.
One can only hope there will be some interesting colors considering the ND3 only brought the Aero Gray Metallic paint. The last special variant, the 30th Anniversary model, came in a vibrant Racing Orange hue. Soul Red Crystal remains a nice color, but it has been around for many years and some people want something new.
It looks as though the ND will become the longest-running generation considering it was unveiled in 2014. By the way, a special edition celebrating a decade of the ND in 2024 also seems plausible, although the current Miata technically entered production in early 2015. That could mean an anniversary model will arrive in 2025, provided it's one of those "very cool" special editions mentioned by Saito.
Whatever the case may be, Saito added they "like to do whatever we can, utilizing the ND, because we think that the ND has a very high potential, therefore we'd like to do everything – whatever we can do."
Source: Read Full Article