This Skoda Superb Was Both Sedan And Hatchback Thanks To Dual Rear Opening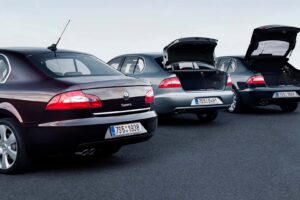 After a 52-year hiatus, Skoda revived the "Superb" moniker in 2001 with the first generation of its modern flagship. It was essentially a stretched Volkswagen Passat (B5), and it even got the VW badge in China where it was sold as the Passat Lingyu. The second-gen model arrived in 2008 and it was a lot more interesting. Not just because it got a wagon version, but also due to the reason the sedan doubled as a hatchback/liftback.
With the 2024 Superb officially unveiled, we remembered the TwinDoor feature offered for the Mk2 model. It came at a time when parent company VW Group wasn't obsessed with cost-cutting measures, allowing its engineers to innovate and implement interesting hardware. And yes, that Superb had dual rear opening by allowing owners to either lift the whole tailgate or only the trunk lid.
So, how did it work? You first had to unlock the vehicle and then press the button located at the bottom side of the trunk lid to open only the metal part. If you wanted to raise the whole tailgate, if you first had to push a different button mounted to the right side of the other button we mentioned. Upon pressing it, the third brake light would flash twice. After that, the owner had to push the first button and raise the tailgate simultaneously.
While the Superb Combi had the aperture for the rear license plate built into the tailgate, it was mounted lower on the bumper for the liftback. In an interview for the official Skoda site, Zdeněk Cibulka, exterior designer of the Mk2, explained the unusual layout:
"This solution was anchored in the design of the rear pillars and the entire rear end. I also had to design the aperture for the double-operated bonnet [trunk/tailgate] and we spent a long time figuring out where the registration plate would go. In the end, it moved into the rear bumper, a rather unusual solution. But visually it helped the Superb a lot."
The TwinDoor was only offered for the Superb Mk2 as the subsequent generation introduced in 2015 was only a hatchback, much like the newly introduced model, complemented by the even more spacious wagon. The Mk4 isn't stepping on the Passat's toes that much since VW has decided to drop the sedan and sell its midsize car strictly as a wagon.
Source: Read Full Article