New electric BMW M3 to arrive by 2027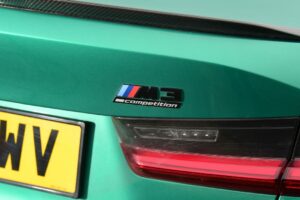 BMW's new performance saloon will put the fun into EVs on a platform with more than 1,300bhp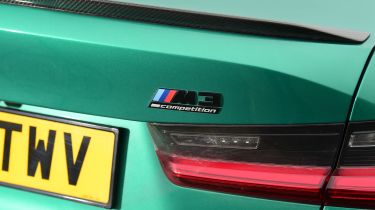 BMW development boss Frank Weber has confirmed that the firm's next M3-sized performance saloon – and potentially an estate – will go all-electric. The M3 EV will be based on the firm's Neue Klasse platform, with an on-sale date as early as 2027, "not too far away from the initial launch of the Neue Klasse as a product line", according to Weber. 
Speaking at the launch of the brand's new 5 Series and i5 electric saloon, and musing on whether BMW needs a halo model once a production saloon car based on the Neue Klasse platform goes on sale from 2025, Weber confirmed: "The next M3 will be fully battery electric – and will have 'the heart of joy' [referring to a new ECU package]. 
New BMW M4 CS in the works
"This ECU control unit was designed for four independently operating electric motors up to one megawatt [1,341bhp] and therefore yes, it needs a lighthouse project," says Weber. 
BMW's new ECU combines controllers for the stability control, powertrain/battery and chassis software into one hardware unit as part of the biggest investment in BMW's history in terms of the Neue Klasse platform, and will unlock new dynamic capabilities according to M division boss Frank van Meel. "We call it 'hand of god', like we had on the M5 with the M xDrive system," he said when referring to the new ECU tech.
"In the future, when you talk about four electric motors for instance, you need the hand of god to be even stronger. Then you don't just need the lateral and longitudinal dynamics from a chassis point of view [as with the M xDrive system], but also the engine. It has to be one centralised logic because on track you want to decelerate at up to 1G or more, but at the same time you want to recuperate and have the right stability," van Meel added.
"It doesn't matter if I do ABS braking or brake with the motors, because the motors are faster than the hydraulics anyway, but it is a prerequisite for going into a new era with M and electric high-performance vehicles. It means you can drive this car in a way you never have before."
New BMW Vision Neue Klasse concept previews future 3 Series saloon
While van Meel outlined that the platform has up to one megawatt of installed power at its disposal, it's unlikely the next M3 model will feature this level of power. In fact, the M boss believes that it's not all about power and that vehicle dynamics will define how electric M cars drive in the future, differentiating BMW's products from its rivals. 
"We don't need a megawatt of power, but of course we are installing this because we don't only think about the M3," he told us. "We will go up to maybe XM or X5 M, and if those cars have some weight we need that power for the typical M driving feel. But it is all about vehicle dynamics, the overall vehicle concept."
Driver interaction will be key to future M division EVs as well, van Meel believes. Asked if the firm would look to simulate gear changes to boost involvement, the exec said: "If you have just one gear and you have no feedback at all, you don't know how fast you are and you cannot look down at the speed. It's a little bit like a motorcycle, third gear and you hear the revs. So actually you do know if you're doing one hundred and thirty, a hundred thirty five, and then you have the shifting lights that you can see from the corner of your eye. So you don't need to look down. You always know how fast you are, and that's missing if you have no acoustic feedback, also no haptic feedback. We are looking into different ways of giving you that feedback."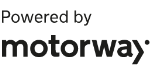 As for the petrol-powered M3, it's likely that this car will be sold alongside the new M car based on BMW's Neue Klasse platform. Weber outlined that BMW has developed the current 3.0-litre turbocharged straight-six engine to comply with Euro 7 emissions regulations, giving the motor a stay of execution well into the future, meaning the combustion-engined M3's lifespan will likely overlap with the all-electric model coming from 2027.
Now check out the latest on the new BMW M5 Touring here…
Source: Read Full Article