New high-tech speed cameras can catch you even if you slow down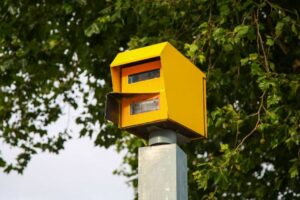 Greater Manchester: Speed camera flashes cars at slow speed
Drivers who break at the last minute are being warned of a new high-tech speed camera that can catch you even if you slow down.
Lots of road users narrowly avoid fines by slowing down for the camera and then speeding up once they've passed it.
But a new camera has been designed to catch them out.
Recently trialled in the Navarra region of Spain, the camera uses laser systems and "doppler effect technology" to accurately record speed over a distance. 
Following the successful trial, they could be implemented on British roads.
READ MORE New speed camera devices trialled with more than 3,000 road users penalised[LATEST]
The new cameras can use a mobile radar device to catch drivers who slow down before cameras and speed up after them.
Gary Digva, founder of Road Angel has warned UK drivers that these new anti-braking systems could be used across the nation to control speeding.
He said: "If introduced, these devices will catch and penalise more speeding motorists, encouraging more drivers to stick to legal limits and improve road safety.
DON'T MISS
Traffic cameras making £1million in fines across UK unveiled[INSIGHT]
Motorists could be hit with £1,300 fine for failing to disable feature in Europe[EXPLAINER]
The moment an angry workman blocks police speed camera using his truck[REPORT]
We use your sign-up to provide content in ways you've consented to and to improve our understanding of you. This may include adverts from us and 3rd parties based on our understanding. You can unsubscribe at any time. More info
"It comes after the news that one in four fatal collisions occur due to speeding on UK roads, meaning over 2,500 people are seriously injured every year due to speeding.
"By capturing drivers who slam on the brakes before passing speed cameras, as well as using technology to apprehend motorists who speed up again after the camera, the new radar devices will be able to penalise many more motorists than current systems.
"Although the fight goes on to reduce incidents of speeding on UK roads and accidents resulting from excess speed we believe introducing this new technology to the UK will help keep roads safer."
Source: Read Full Article