See Tesla Cybertruck Sport New Pixelated Wrap In California Sighting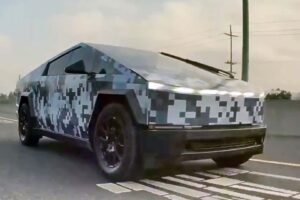 A Tesla Cybertruck with a new, blue pixelated wrap has been spotted driving on California Interstate 287 in the Bay Area by X (formerly Twitter) user @kjoule11, making it the fifth different wrap model seen on prototypes of the upcoming all-electric pickup to date.
Previously, the Austin-based EV maker stuck on a Ford F-150-like vinyl cover on one of its Cybertrucks and then replaced it with another wrap that made it look sort of like a green Toyota Tundra, in what seemed to be a tongue-in-cheek show of power to two of the best-selling internal combustion pickup trucks in America.
There was also a polygon gray camo and another, darker wrap spotted in the wild by brand enthusiasts, which raises the question: will the Elon Musk-led automaker offer an official way of wrapping the Cybertruck when it finally gets into the hands of customers, seeing how the angular pickup won't be painted?
We don't know, as official details are very scarce, but Tesla has said in the past that customers of its first-ever pickup truck will be able to wrap their vehicle in any color or design, and in 2020 it opened its first car wrap service in China.
Having an official, factory- or service center-installed wrap would make life a bit easier for Cybertruck owners who aren't fond of the shiny metal look, on which scratches might be quite hard to ignore. With this being said, however, Musk said in the past that Tesla might be able to offer an optional tungsten carbide coating which would make the body panels "scratch-proof to everything below diamond harness."
And if this coating solution doesn't transform into reality, the EV maker's chief designer, Franz von Holzhausen, said at the beginning of the year that drivers will be able to basically buff out any scratches, with the company applying a special finish to the body that can be cured or fixed.
More information should be released once deliveries of the truck begin later this year, possibly this week, as Elon Musk hinted during the Q1 Earnings Call.
As always, we'd like to know what you think about this, so head over to the comments section below to give us your thoughts.
Source: @kjoule11 (X)
Source: Read Full Article