Nissan Hardbody Teased As New Frontier Trim, Debuts September 14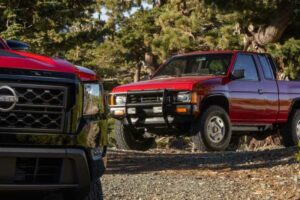 The 1980s are alive at Nissan. The Japanese brand is pulling on our truckin' heartstrings with a teaser photo that strongly suggests the classic Nissan Hardbody is making a comeback. We will know for sure on September 14, as that's when "the next chapter of the Nissan Hardbody story begins," according to the automaker.
For now, we only have the teaser photo and quote from Nissan to go on, but it's safe to assume this Hardbody revival will be a new Frontier trim. The photo shows a classic Hardbody looking fantastic in red, with the front clip of a Frontier in a matching shade. It's also safe to assume we will see this at the 2023 North American International Auto Show in Detroit, as September 14 is exactly one day before doors open to the general public.
Gallery: Nissan Hardbody Heritage Photos
If we are talking about a new trim, where might it fall in the Frontier lineup? Pro-4X is the current range-topper, and if we take a literal interpretation of the teaser image, Hardbody could be offered only with four-wheel drive. It likely wouldn't fall into the S or SV range, so expect it to slot somewhere near the top of the Frontier hierarchy. There's also the possibility it could be a special edition Frontier, built in limited numbers for a short run.
It's worth noting that Nissan published a concise history of the Hardbody moniker in North America along with the teaser photo, mentioning the truck as something for both work and play. A photo collage features two-wheel drive trucks, but there's certainly an emphasis on off-roading in Nissan's messaging. The adventurer within us rather likes the idea of Hardbody returning with an overlanding emphasis, bringing forth the play aspect with some increased off-road chops. Such a trim would match nicely against the Toyota Tacoma Trailhunter, which debuted in May and is aimed squarely at the overlanding crowd.
The Nissan Hardbody gave way to the first-generation Frontier for the 1997 model year. That initial Frontier run only lasted until 2004, but the second-gen truck went virtually unchanged for upwards of 15 years until the third generation finally arrived for the 2022 model year. Even then, the new Frontier still packs the 3.8-liter V6 introduced late in the second-generation run.

Whatever is cooking with the new Hardbody, we won't have long to wait. September 14 is just around the corner, and we will have all the latest from Nissan right here at Motor1.com.
Source: Read Full Article