Petrol and diesel drivers can save fuel with clever tip, warns CAR SOS TV star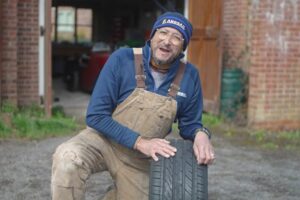 Halfords demonstrate how to check and inflate your car tyres
CAR SOS TV star Fuzz Townshend has revealed petrol and diesel drivers can save fuel by following a simple tip.
The host of the popular classic car show admitted checking a car's tyre pressures can have a dramatic effect on fuel use.
He warned that making sure pressures are set at the right allocation can make cars more "efficient", helping motorists to save the pennies.
Fuzz told Landsail Tyres YouTube channel: "With the cost of living rising and with the price of fuel it is ever more important for us to make economies when running our cars,
"Check your car's tyre pressures. Your car manufacturer may specify different pressures for different road conditions or of course for different load conditions.
READ MORE Petrol and diesel owners can improve fuel economy by '10 percent' with tip
"A lightly loaded car may need different tyre pressures to that when it's heavily loaded. The same goes for if it's going to be used on a motorway journey to those going to be made to towns and B roads.
"Either way you can make your car more fuel efficient by having the tyres set at the correct pressures."
Experts at KwikFit have also urged drivers to keep an eye on their tyre pressures to improve their fuel economy.
They claim tyres will typically lose around 2psi every month which can have a major impact on fuel rates.
DON'T MISS
Little-known button can instantly slash fuel consumption by 12 percent[LATEST]
Drivers warned of huge fines for practising common fuel-saving method[ANALYSIS]
Little-known driving method that slashes fuel costs is 'vital'[COMMENT]
We use your sign-up to provide content in ways you've consented to and to improve our understanding of you. This may include adverts from us and 3rd parties based on our understanding. You can unsubscribe at any time. More info
Underinflated rubber can impact petrol and diesel use as the car will need to work harder due to an increased rolling resistance.
KwikFit added: "If your tyres are even slightly distorted due to incorrect tyre pressure, you'll be using more fuel to keep your car running smoothly.
"This is because of the added friction while driving that comes from a misshapen tyre."
Drivers with a pressure gauge or tyre pump will be able to keep an eye on their vehicle at home.
However, those without the vital tools can check their readings by using machines which are usually located at petrol station forecourts.
Motorists will usually have to pay to use the devices with some charging up to £1 or £2.
Michelin commented: "A major factor that many don't consider when it comes to how to improve their fuel economy is the tyre choice and pressure.
"Tyres that don't have the correct air pressure levels could be a source of unnecessary energy waste."
Source: Read Full Article