Polestar Cuts Delivery, Profit Margin Forecast Even With Revenue And Sales Up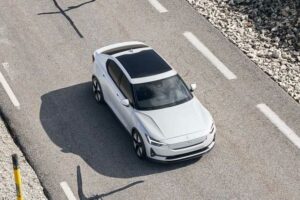 Polestar's third-quarter financial results reveal a challenging market situation, which forced the company to reduce its expected electric car deliveries in 2023 to around 60,000.
Previously, Polestar expected 60,000-70,000 deliveries, which was already reduced from the initial guidance of 80,000 units. In Q3, deliveries amounted to 13,976 electric cars (up 50 percent year-over-year), while during the first nine months of the year, the company delivered 41,817 cars. To reach the updated target, in Q4, sales must reach a near-record level. Considering that in Q4 2022, sales amounted to roughly 21,000, it seems that there might be no growth this time.
Lower volume is not the only issue. The gross profit margin is expected to be cut in half from four percent to two percent in FY2023. That's despite the applied price increases. Polestar says that "the background of weakening global consumer demand, particularly affecting the rate of EV adoption" is part of the reason for lower profits.
Polestar's revenues in Q3 increased by 40.8 percent year-over-year to $613 million, while its net loss amounted to over $155 million (compared to $299 million a year ago). During the first nine months of the year, the company's revenues amounted to over $1.84 billion (up 24.9 percent year-over-year), although the losses are more than two times higher at $468.4 million (up 130 percent year-over-year).
The financial situation at Polestar appears to be stable, with $951 million in cash on the balance sheet and $450 million in new loans from Volvo Cars ($200 million) and Geely Sweden Automotive Investment AB – an affiliate of Geely Holding ($250 million).
Polestar says that under its newly strengthened business plan, the company is expected to achieve cash flow break-even in 2025 with a target annual electric car sales volume of 155,000-165,000.
New Polestar Models
Polestar says that the all-new Polestar 4 model will enter production in China next week, while the first customer deliveries will begin in December 2023.
In 2024, the company would like to start production of the Polestar 3 (in Q1 2024 in China and in the summer of 2024 in the United States). With the Polestar 5 scheduled for 2024 as well, the lineup will include four models in 2025. In 2026, the Polestar 6 will enter the market.
As we can see in the image, Polestar targets the premium/high-end segment and a driving range of around 373 miles (600 km).
All models will be produced in China, with additional manufacturing sites for some models in other markets (like the U.S., in the case of the Polestar 3).
Sources: Polestar, Reuters
Source: Read Full Article