Best 7-seater petrol SUV / MPVs for long journeys: Buying my 3rd car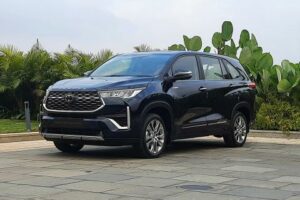 I have booked an Innova Hycross, but the 15-month waiting period is giving me second thoughts.
BHPian Sanidhya mukund recently shared this with other enthusiasts.
I currently own a 2014 Mercedes C-Class W204 with 40k on the odo. It has been maintained immaculately and was quite a well-equipped car for its time. (Memory seats, Panoramic Sunroof, Sat-Nav, dual Zone AC etc.). I also own a 2021 Maruti Suzuki Ertiga VXI CNG. This one also has 40k on the odo.
Both cars are running fine, but both have shortcomings that have created a void in my garage: I don't have a car that is suitable for long journeys! The Merc is too low, has no space in the back and is too old to be taken to remote areas where help would not be available in case something goes wrong. On the other hand, the Ertiga is new, spacious, reliable, abuse-friendly and has good ground clearance, but is simply too unsafe to be taken beyond city limits.
I am thus looking to add a 3rd car to my garage, with the following set of requirements:
With these requirements in mind, I have gone ahead and booked the Toyota Innova Hycross VX (O) 8 seater in Sparkling Black Crystal Shine. I have been quoted a waiting period of 12-15 months. However, I am having second thoughts about my choice; The Ertiga was a decision that was made with the head only, and while the car does serve its purpose well, I do not particularly like it. It feels very insipid and bland. I am unfortunately getting similar vibes from the Innova Hycross, especially because of the cheap interiors and accentuated by the fact that I cannot get a ZX model due to the bookings being closed.
Therefore, I would appreciate some help choosing among all the Petrol, automatic, 7-seat UVs available in India:
MG Motors
Visited the flagship showroom in Gurgaon and loved the ambience of the dealership. Courteous sales staff as well. They showed us a Hector+ Sharp Pro with captain seats and explained the features well.
Hector Plus
Pros
Affordable price.
Loaded to the gills with tech and features.
Welcoming interiors, good fit and finish.
Spacious cabin and a cavernous boot with all seats folded.
Cons
Looks U-G-L-Y. Hate the proportions.
Questionable reliability.
Feels a bit dated now. The Baojun 530 has been around for a while.
The suspension and engine make it a bland and insipid ride, much like my Ertiga.
Mahindra
Visited the Lajpat Nagar dealership. Again, a good sales experience, although the showroom was cramped and they did not have an AX7L XUV for display. I did not like the Scorpio N because the space management in the back was rather poor. It also lacked some very basic features such as a 3-point seatbelt for the middle rear passenger, height adjustable seatbelts for the front occupants and an auto-dimming IRVM. Some of these were missing in the XUV700 as well, but that car more than makes up for it by offering tonnes of modern tech. Rejected the N, but shortlisted XUV700.
XUV700
Pros
Great looks and road presence.
Loaded with tech.
Spacious cabin and comfortable seats.
Value for money pricing.
5 star safety.
Advanced suspension set-up with FSD and a nice 200 BHP petrol engine.
Cons
The reliability is a big question mark, going by the number of niggles and breakdowns reported all over the internet.
Does not have a 3-point seatbelt for the middle rear passenger.
With the third row up, there is Zero boot space.
Toyota
Visited a couple of dealerships. In both instances, the experience was average at best. The sales guy at the Gurgaon dealership had to be pestered with questions to get him to open his mouth. All he did was point to the waiting period chart and say that if you want an Innova, you will have to join the queue with thousands of other people already waiting for one. No display car or test drive car is available. No test drive for Fortuner is available either. The Delhi Dealership was a little better, with them having a Hycross available for a test drive. The sales guy was also more responsive. This is the dealership where we have booked our Hycross.
Fortuner 2.7 petrol
Pros
Looks and road presence.
Proven reliability.
Body on frame construction and the Hilux pedigree means that it is indestructible.
A proper, old-school SUV, kinda like the late 1990s Pajero. Quite charming.
Cons
Though the interior quality is okay, the design is quite dated.
The car has been around for a while and it shows.
The Obnoxious image associated with it.
Difficult to enter and exit for the elderly.
Scary FE figures.
Innova Hycross
Pros
Value for money pricing.
Reasonably well equipped.
Superb Fuel economy.
Very Spacious and comfortable.
Very quiet when on EV mode.
Cons
Cheap plastics.
You cannot get the ZX or ZX (o) even if you want to.
Aspirational worth is lower than the others as it is an MPV and looks Van-like.
Feels insipid and bland like my Ertiga.
Skoda
I have yet to visit the Skoda dealership, but I have seen the Kodiaq inside-out as my Aunt recently got one.
Kodiaq
Pros
Lovely interiors. They feel like they belong in an Audi Q5
A technologically advanced mechanical package; Haldex AWD, DSG gearbox, TSI engine.
Solid build quality and a very likeable design.
9 Airbags and a 5-star Euro-NCAP rating.
Scope for discounts.
Cons
Complex mechanicals could lead to reliability concerns, although I have yet to hear horror stories like Mahindra and Tata.
Potentially expensive spares and upkeep.
A new model has already been unveiled globally.
Besides these, I have also considered the upcoming Kia Carnival and the Nissan X-trail, but am not too keen on those because the Kia is a bit too big for city traffic and the Nissan is not likely to be the best in terms of service and availability of spares. In the end, this is in essence a head vs heart battle. The Hycross is the perfect choice as far as the head is concerned, but the heart absolutely hates it. Your valuable input would really be appreciated.
Here's what GTO had to say on the matter:
Best choice. Wait for it.

Also, visit a Maruti showroom and check on Invicto waiting periods. You might get lucky.

Place enquiries or deposits with all Maruti & Toyota dealers in your region.

Choices that should be next up:

No such thing as a perfect car, but all of the above are good/excellent cars. Pick the one that best suits your requirements. Happy shopping.
Here's what BHPian Raghav07 had to say on the matter:
After seeing your requirements, I feel there is only one car fit for this and it's a car that we have in our family.

The Kia Carens 1.5 DCT!

My uncle has one and it's been fantastic for him.

The engine is thirsty in the city(7-10 km/l in heavy traffic with Eco Mode) but gives great highway figures(15-16 with a record 18).

Also has great features and space. And the looks are good too.

Please have a look at the Carens, and see if it fits your needs.

If it doesn't, please let us know. I feel many people are going to suggest Carens.

Hope this post helps.
Here's what BHPian Shreyans_Jain had to say on the matter:
How important are those last 2 seats? If their use is only occasional, nothing like the XUV700. Or the Kodiaq if you want something properly premium. Great cars, both of them. Can't go wrong with either. Mahindra mStallion petrol engine is an absolute beast, and the rest of the car is also beautifully engineered. Kodiaq is the same, dressed in a high-end suit. Mind you, the third row of both cars is suitable only for children or for small adults. That too only for short distances.

If the last two seats are important, or if you need the ability to haul 7 people + luggage, your only option is the Innova HyCross/Invicto. For all its shortcomings, and there are a ton of them, it has an actually usable third row and still retains a decent usable boot for weekend luggage. No other car can do that, as of today.

The new Kia Carnival is still some time away, and there is no clarity if they will launch a hybrid option or if it will be diesel-only like before.
Check out BHPian comments for more insights and information.
Source: Read Full Article