Refreshed Ford Puma Spied, New Styling Hides Under Full-Body Wrap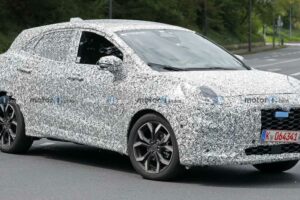 Ford is readying an updated Puma crossover for Europe. The model has new responsibilities now that its Fiesta sibling is no longer available, the Puma becoming the Blue Oval's entry-level offering. The new job duties will coincide with a new look for the role, with Ford updating the model's styling inside and out.
The refreshed Puma won't be fully redesigned as the current car debuted in 2019. The mid-cycle makeover will give the crossover a new face with updated headlights, grille, and bumper. The emblem will move inside the grille, with changes at the rear being harder to spot. The test vehicle retains the current car's taillights.
Gallery: New Ford Puma Spy Photos
The new spy photos don't reveal the car's cabin, but previous shots captured a glimpse of it. The updated Puma will likely feature a revised driver's display and a larger 12.0-inch infotainment screen. The new layout in the Ford will require reconfiguring the dashboard and vent layouts.
The screen looked integrated into the dashboard. The latest photos show the vehicle with a sheet covering the new styling.
One of the biggest changes coming to the car will happen beneath the sheet metal when the all-electric version debuts. The Puma will use the electric-drive components from the E-Transit Courier van, and it could make around 134 horsepower.
The Puma EV should be capable of adding 54 miles of range in just 10 minutes with 100-kilowatt DC charging. The Puma EV will likely feature unique front-end styling like a closed-off grille and other powertrain-specific touches.
The automaker will continue to offer the Puma with gasoline engines, too. The standard 1.0-liter, three-cylinder EcoBoost hybrid should still be available in the redesigned model, making around 123, 153, or 168 horsepower, depending on the application. Ford will also likely continue offering the turbocharged 1.5-liter EcoBoost engine in the manual-equipped Puma ST. It makes 197 horsepower, and our spy photographers have already spotted it testing in the wild.
Ford hasn't announced when it plans to reveal the new Puma, but the automaker will produce it in Craiova, Romania, alongside the E-Transit Courier. Rumors suggest it won't enter production until late next year, and we don't expect Ford to offer it in the US even if CEO Jim Farley tweeted two years ago that he wished the Puma ST was offered in the US. We do, too.
We will likely see the new Puma debut sometime next year.
Source: Read Full Article