Stellantis On A Quest To Halve Battery Weight In Pursuit Of Lighter EVs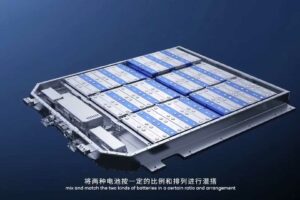 Stellantis is aiming to halve the battery weight in its future EVs to make them comparable with gas-powered cars, as per a new report. To attain its objective, the group is working with several battery technology companies, exploring suitable chemistries.
At the inauguration of its new Mirafiori Battery Technology Center in Turin, Italy, the group's engineering boss Ned Curic told Autocar that today's batteries were too heavy and that lightweight batteries and efficient cell packaging are vital moving forward.
Current lithium-ion batteries are among the heaviest components in EVs, and the heft can adversely affect performance, efficiency, and safety. For instance, a GMC Hummer EV's battery alone weighs 2,818 pounds, the equivalent of a Honda Civic.
Earlier in 2023, Stellantis invested in California battery company Lyten, which is developing lightweight lithium-sulfur batteries. The San Jose-based company claims a lower material cost, a 60 percent weight reduction, and resistance to thermal runaway.
It has also mentioned the elimination of nickel, manganese, cobalt, and graphite. Cobalt has well-documented negative human and environmental impacts, and several companies are moving away from it.
Stellantis also mentioned sodium-ion batteries as a possible alternative. CATL has developed a first-generation sodium-ion battery and claims a high energy density, fast charging capability, and improved thermal stability. Chinese state-owned carmaker Chery is reportedly the first automaker to use CATL's sodium-ion (Na-ion) batteries.
Stellantis, which is the parent company of brands like Alfa Romeo, Ram Trucks, Citroen, Peugeot, Jeep, Dodge, Chrysler, and Fiat among others, inaugurated its new $43 million Battery Technology in Turin last week.
With a footprint of 8,000 square meters, the group claims it is one of Europe's largest battery testing and development hubs. Workers at the facility will oversee stress tests, durability tests, battery management system software development and calibration, and teardowns among other responsibilities.
Gallery: CATL Sodium-Ion Batteries
The group is also working with France's National Centre For Scientific Research (CNRS) and TotalEnergies-owned battery solutions company Saft to develop a battery that integrates inverter and charger functions within the module to free up space, reduce cost, and improve range. The apparent solution is called Intelligent Battery Integrated System (IBIS), and Stellantis has filed several patents for it.
There are myriad experiments underway in battery technology across the globe with the common goal of reducing costs, improving energy density, and increasing driving range. We'll have to wait for a few years to see if one or more solutions can solve the persistent issue of range anxiety.
Source: Stellantis via Autocar
Source: Read Full Article