UAW Strike Halts Ford F-Series Super Duty Production At Company's Largest Plant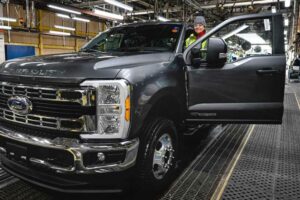 The United Auto Workers has declared a strike at Ford's Kentucky Truck Plant that assembles the Ford F-Series Super Duty, Expedition, and Lincoln Navigator. The plant employs 8,700 union workers, and it's the Blue Oval's largest factory.
The UAW's statement about expanding its ongoing strike said that Ford came to them with the same offer as the one from two weeks ago. "It was an unacceptable move that triggered a strong and immediate response," the union wrote. 
The video above is from the UAW, and union leader Shawn Fain explains in more detail why the strike is expanding. He believes that making the same offer again is a sign the automaker isn't taking things seriously.
Ford released its own statement on the situation. "The decision by the UAW to call a strike at Ford's Kentucky Truck Plant is grossly irresponsible but unsurprising given the union leadership's stated strategy of keeping the Detroit 3 wounded for months through 'reputational damage' and 'industrial chaos,'" the automaker wrote. The company called its offer "outstanding."
Gallery: 2023 Ford Super Duty production
The UAW went on strike against Ford, General Motors, and Stellantis on September 15, 2023. It initially began with 13,000 workers and has expanded since then. As of September 29, the effort grew to 25,000 people, consisting of 43 facilities in 21 states. Recently, nearly 4,000 union members from Mack Trucks joined the effort. On September 26, President Biden visited the picket line at GM's Willow Run redistribution center. He spoke in support of the strike, even as automakers came out against the strike.
"We are disappointed by the UAW leadership's actions, despite the unprecedented economic package GM put on the table, including historic wage increases and manufacturing commitments," General Motors said in a statement when the strike began.
Negotiations with GM led the automaker to offer to allow the UAW to unionize future battery jobs. Fain called it a "major breakthrough." However, the two sides haven't come to a final agreement yet.
"We are extremely disappointed by the UAW leadership's refusal to engage in a responsible manner to reach a fair agreement in the best interest of our employees, their families, and our customers," Stellantis said at the beginning of the strike.
The UAW will broadcast on Facebook Live on Friday, October 13, to announce the current status of negotiations with Ford, GM, and Stellantis. Motor1.com will cover that press conference.
Source: Read Full Article