Lia Block Takes Her Dad's Escort Cosworth Rallying After Winning ARA 2WD Title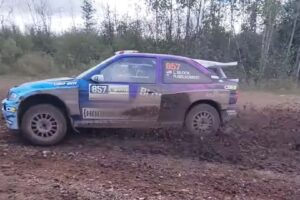 This weekend, a modified Ford Escort Cosworth bearing the names Block and Gelsomino will once again tear through rally stages in America. And though it doesn't wear Ken Block's iconic number 43, a proper championship team is at the helm. That would be Ken's daughter Lia and co-driver Rhianon Gelsomino, the female duo who recently won the 2023 American Rally Association (ARA) Open 2WD title with two races to spare.
At age 16, Lia is the youngest person to ever win an ARA national championship. Driving a Subaru BRZ, she and Gelsomino generally dominated every race they were in with four first-place finishes in five events. The performance was strong enough to secure the O2WD title early, and the ladies aren't done yet. They're currently fourth in overall ARA standings, and with the 2WD championship secured, they are closing out the 2023 ARA season by racing in the top 4WD category. And they're doing it in Ken's Cossie V2 built after the first crashed and burned during a rally back in 2018.
Lia and Rhianon will seek more rally glory at the Lake Superior Performance Rally, which returns to Marquette, Michigan in the Upper Peninsula after many years further north in Houghton. Known for amazing fall colors and fast stages with big jumps, it's the season-ending event for the ARA. She and Rhianon won't be the only Block/Gelsomino combo on the stages, however. Her mom Lucy is racing in the L4WD group with Rhianon's husband (and Ken's former co-driver) Alex Gelsomino, driving a 2021 Ford Fiesta Rally3.
Taking to Instagram, Lia seems very much excited to step into the ARA's highest category. She also says it's her first time racing an AWD car, though she certainly has all-paw experience. Lest we forget, earlier this year she did a tribute run up Pikes Peak in the bonkers 1,400-hp, AWD Hoonipigasus Porsche. And she drove the seriously overpowered Hoonicorn Mustang in a plethora of drag races, though technically speaking, it was all unofficial.
Ken passed away in January in a snowmobiling accident at age 55, but it's heartwarming to see his legacy live on as Lia carves her own legacy in the racing world. The Block/Gelsomino teams will compete in Michigan on October 13 and 14, closing out the 2023 ARA season. We can't wait to see what's in store for 2024.
Check out Motor1.com's Rambling About Cars podcast for more discussion on Lia and other automotive topics, available below.
Source: Read Full Article