US: Volvo Plug-In Car Sales Almost Doubled In August 2023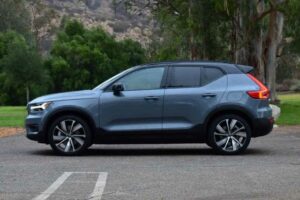 Volvo Cars USA reports that its car sales in the United States increased in August by 31 percent year-over-year to 10,644. During the first eight months of the year, sales amounted to 81,179 (up 24% year-over-year).
Volvo's plug-in electric car sales increased even faster, which allowed the brand to significantly increase the share of plug-in cars out of the total volume.
In August, the company sold 2,673 rechargeable cars (up 94 percent year-over-year), which represented about 25 percent of the brand's total volume (compared to 17 percent a year ago).
The plug-in hybrid cars are in the majority with 1,814 units, but all-electric with 859 are growing fast and expected to increase significantly in the not-too-distant future.
Volvo plug-in car sales last month:
BEVs: 859 (up 317% year-over-year) and 8.1% share
PHEVs: 1,814 (up 55% year-over-year) and 17.0% share
Total Recharge: 2,673 (up 94% year-over-year) and 25.1% share
Volvo Recharge sales in the US – August 2023
So far this year, Volvo sold over 23,000 plug-in electric cars in the US, which is roughly 29 percent of the total volume. BEVs alone represent 12 percent.
Volvo plug-in car sales year-to-date in 2023:
BEVs: 9,717 (up 136% year-over-year) and 12.0% share
PHEVs: 13,577 (down 4% year-over-year) and 16.7% share
Total Recharge: 23,294 (up 28% year-over-year) and 28.7% share
For reference, in 12 months of 2022, the total volume amounted to 27,909 (27.4 percent of the total volume).
In the short term, Volvo's all-electric lineup will be strengthened by the 2024 model year versions of the C40 Recharge And XC40 Recharge, which are noticeably more attractive in terms of specs than the 2023 model year versions – see more details here.
The imported Volvo models are not eligible for the $7,500 federal tax credit, but the incentive might be included in the lease rates.
In the future, Volvo's BEV lineup will be expanded by the all-new Volvo EX90 model and the recently unveiled Volvo EX30. Most recently, the company announced also an all-electric MPV – the Volvo EM90. The next-generation models are crucial for Volvo's plan to become 100% all-electric by 2030.
https://www.youtube.com/embed/3m-uNLOi6Eo
Source: Read Full Article