Skoda previews next Superb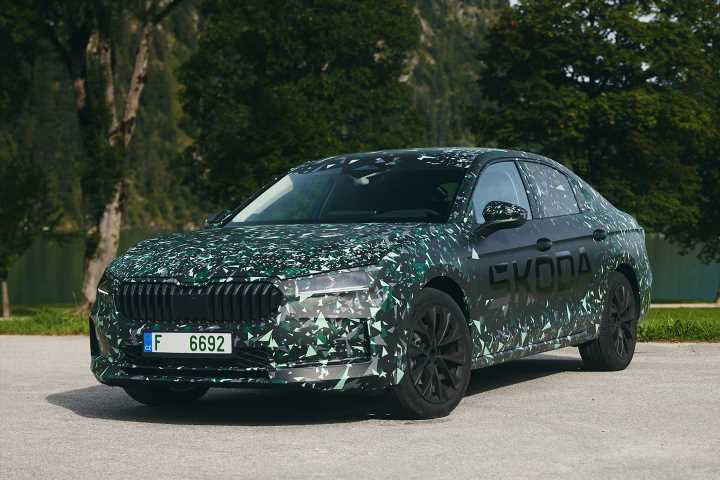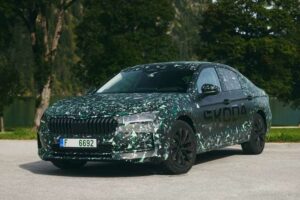 Even bigger than before – and cleverer, too – the fourth-gen Superb is coming very soon
By Matt Bird / Tuesday, 5 September 2023 / Loading comments
It says a lot about how topsy turvy the automotive world currently is that the headline for Skoda's upcoming Superb is as follows: 'The fourth generation of the Skoda Superb will once again offer a hatchback'. Not so long ago, that was a given – now nobody really knows what to think. The new Passat is estate only, the days of mid-engined Porsches with engines are almost done, and the Ford Fiesta is finished. So, actually, some clarity is quite welcome. There will continue to be a Superb hatchback which is, as we all know, the perfect car to make a 560hp sleeper from…
Amazingly, this Superb hatch is going to be the biggest ever, which will be great news for minicabbers and parents across the country. The Mk4 Superb is going to be another 43mm longer than before, taking it beyond 4.9m (4,912mm) for the first time and close to exec saloon territory. It's also 12mm taller, at 1,481mm, with more headroom for both front and rear passengers. That increase in length means an even larger boot (now 645 litres with the seats up), even if the wheelbase (2,841mm) and width (1,834mm) have remained unchanged. This is going to be a properly vast five-door hatch. The wagon is presumably going to be ginormous.
Even with the reveal a little way off, the engine line up for the Superb has been confirmed. There will be three petrols – a mild hybrid 150hp 1.5, plus 204hp and 265hp 2.0-litre – alongside a pair of diesels with either 150hp or 193hp. Every engine is paired to a seven-speed DSG, and the most powerful petrol and diesel are all-wheel drive. With a drag co-efficient now down to just 0.24, expect good refinement and efficiency. There have been stories of carefully driven current diesels showing 875 miles of range on a full tank…
Skoda is very excited about what's coming for the new interior, but won't reveal any of it just yet. We're promised a central screen of up to 13-inches, a head-up display for the first time in a Superb, plus a feature called Skoda Smart Dials. Again, it feels odd to suggest that rotary pushbuttons are newsworthy, but it's a funny old period. They sound a bit like the old Jaguar controls, with different functions on the same twirly dial, but welcome nonetheless. They're 32mm diameter and said to provide 'quick and easy access to many vehicle functions.' That sounds like good news. The gearshift is now on the steering column, freeing up even more space; Essence and Selection spec kick the range off (and aren't biscuit boxes), with more familiar Sportline and Laurin & Klement set for the Superb as well. Expect to see it in full very soon.
---
Up to 265hp from all-new, much larger VW Passat
Skoda Octavia vRS Bonneville | PH Heroes
Source: Read Full Article