Volvo EX30 To Be Made In Europe From 2025 After 'Strong Demand'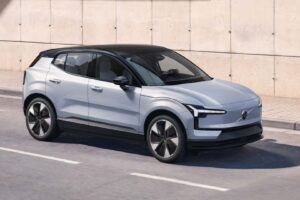 Volvo Cars announced today that the all-new, all-electric Volvo EX30 model will be produced at its Ghent plant in Belgium starting in 2025.
The decision to add a second manufacturing site after Zhangjiakou, China, where production started earlier this autumn, was made after receiving "strong demand" for the next-generation small electric crossover/SUV, the company explains. The first customer deliveries are scheduled for late 2023.
The European factory will be used to boost production capacity for the expected EX30 demand in Europe, as well as for global exports. The plant is already engaged in the production of the electric XC40 and C40 models.
Volvo underlined that its ambition is to build its cars where it sells them as much as possible, noting that the top-selling XC60 and XC40 models are already produced in both Europe and China.
Having two separate manufacturing sites around the world also adds production flexibility for the model, which is expected to be one of Volvo's best-selling models. In the current challenging times of supply chain issues and a potential clash between the European Union and China over electric car imports, flexibility is something that must be considered.
The Volvo EX30 was revealed earlier this year and will be sold globally, including in the U.S., where prices of the rear-wheel drive version will start at $36,245. The all-wheel drive version will cost significantly more – starting at $46,095.
It will be interesting to see whether Volvo will be able to maintain the pricing with the European production (usually considered more expensive than the Chinese plants).
Gallery: 2024 Volvo EX30
Jim Rowan, Volvo Cars' Chief Executive explains: "Our ambition is to sell the EX30 around the world at an attractive price point, easing the transition to driving an electric Volvo car for more people while also contributing to company margins. Adding production in Ghent is a logical move as we aim to capture the strong demand for our exciting small electric SUV across the globe."
Volvo's plan is to increase the share of all-electric cars for new sales to 50 percent by the mid-decade and to 100 percent by 2030. Besides the EX30, there's also the Volvo EX90 and Volvo EM90 in the pipeline.
Source: Read Full Article