BYD Seal and localized Atto 3 India launch delayed to 2024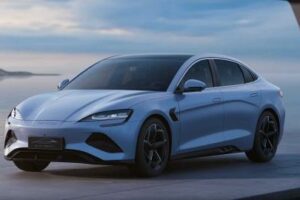 When it comes to the localized Atto 3, BYD is facing hurdles on the homologation front.
According to a media report, Chinese EV maker BYD has pushed the launch of the Seal EV to 2024. The launch of the localized Atto 3 electric SUV has also been delayed.
The BYD Seal electric sedan was showcased at Auto Expo 2023, with the intention to introduce it by Q4 2023. As per the latest reports, that is unlikely to happen.
The BYD Seal comes with two battery options – a 61.4 kWh unit offering 550 km of range and an 82.5 kWh pack with a claimed range of 700 km (CLTC-cycle). The base single-motor variant develops 201 BHP, while the one equipped with a larger battery packs 308 BHP.
The dual-motor Seal is available with the larger 82.5 kWh battery pack. It has a combined output of 523 BHP, which enables the car to sprint from 0-100 km/h in 3.8 seconds.
Speaking of the Atto 3, the carmaker is facing hurdles on the homologation front. This has delayed the introduction of the localized version of the electric SUV. A new version of the Atto 3 with an advanced motor is also said to be in the works.
Source: Autocar India
Source: Read Full Article