Volvo Joins The 'Gigacasting' Revolution With Two New 9,000-Ton EV Giga Presses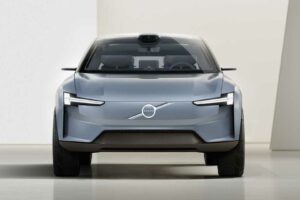 A growing chorus of automakers and car industry experts will tell you that giga presses – the high-pressure die-casting machines for car body assembly pioneered by Tesla – will be the key to cranking out future electric vehicles cheaply and in huge volumes. Now, it looks like Volvo is the latest automaker to join the gigacasting revolution. 
Last month, we learned that Ford and Hyundai had bought giga presses from Italy's IDRA Group, the same company that supplies Tesla with massive die-casting machines that churn out large pieces of vehicle underbodies for the Model Y and Cybertruck. The report from Reuters noted that there was a third automaker that bought two giga presses. While nothing was confirmed at the time, unnamed sources told the news agency that the company could be Volvo Cars.
It turns out the report was accurate because IDRA Group confirmed the transaction on its LinkedIn page yesterday. The company said it was awarded a contract by Volvo Cars for two 9,000-ton giga press machines – the largest model IDRA makes – that will be installed at the automaker's future electric vehicle factory in Košice, Slovakia.
"These state-of-the-art machines are set to revolutionize the automotive manufacturing industry and position the brand's new plant in Košice as a strategic hub for Giga Casting," IDRA said in a statement.
The company noted that the 9,000-ton aluminum casting machines, which are said to be among the largest die-casting machines in Europe, should represent "a remarkable leap forward in automotive manufacturing technology."
IDRA Group Giga Press 9000
Volvo Cars hasn't gone public with the purchase yet, but we contacted the automaker to learn how the giga presses are going to help advance its EV manufacturing efforts and which models the casting machines will be used for. We will update this story when we get a reply.
Until then, we should point out that Volvo is investing $1.25 billion in a new EV-only plant in Slovakia, which will be its third factory in Europe. The site is projected to build 250,000 vehicles per year when it starts churning out next-generation Volvo EVs in 2026.
When it announced the new plant last year, the automaker said that construction would start in 2023, with equipment and production lines to be installed during 2024. Mind you, no groundbreaking ceremony has been announced yet.
Why Giga Casting Matters
Automakers are increasingly following in Tesla's footsteps after the EV maker and IDRA Group pioneered giga casting for the auto industry and proved it as a viable manufacturing technique.
Simply put, batteries and software are ludicrously expensive, the latter especially as more and more automakers chase what could be an autonomous future. In order to get the costs down and scale up, they have to rethink car manufacturing itself. Giga casting will be a significant part of that effort in the years to come. 
Carmakers that adopted or are adopting giga casting include Geely's Zeekr for the 009 electric minivan, Cadillac for the Celestiq flagship, and Toyota for its future EVs. Toyota is perfecting the technology at its plant in Miochi, Japan, and recently showcased the advantages of giga casting in a tech workshop. The carmaker revealed that the rear section of the bZ4X SUV will be made from one giant cast in the future compared to 86 individual castings at the moment.
You can understand why this is a big deal, as it enables a more cost-effective production of complex and lightweight components. This brings significant cost reductions and speeds up production compared to the traditional way of assembling the same components from multiple small castings and parts.
IDRA Group also claims the giga casting process is "inherently eco-friendly, reducing waste and energy consumption," which is another big advantage as it further reduces the impact the auto industry has on the environment.
Source: Read Full Article