All The Big News From Polestar Day 2023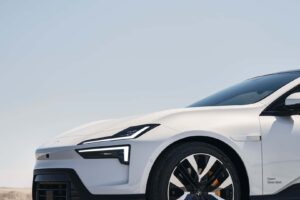 Polestar didn't come to play. Sure, the electric performance brand just had to adjust investor expectations amid uneven global EV demand. But if its inaugural Polestar Day event is any indication, the nascent company has some very big plans that go well beyond the cars it's making now – and well beyond cars altogether, in fact.
While a lot of EV manufacturers seem to be facing tough headwinds lately – some worse than others, certainly – the electric Volvo cousin has still had a lot of victories to celebrate. Deliveries are up, revenue is up, costs are down and the overall financial situation seems stable. However, in its Q3 earnings call this week, Polestar warned investors that it might be looking at slower demand in Q4 and into next year as EV adoption turns into less of a permanent up-and-to-the-right curve than many expected.
No matter. The outlook from Polestar Day seemed to be a positive one, full of new tech, global manufacturing plans and exciting new models. Let's dive in. 
Gallery: Polestar Day 2023 Photo Gallery
America's Polestar 4 To Be Built In South Korea
Currently, the Polestar 2 is built in China, which means America's steep 27.5% tariffs are baked into the price tag. But that's not a long-term solution as America (and potentially other markets) reassess their relationships with Chinese-made cars. 
As such, Polestar's second all-electric model on the market, the Polestar 4, will be produced at two locations – in China and in South Korea – to diversify the brand's manufacturing footprint.
The Polestar 4 will enter production in Hangzhou Bay, China next week, and then exported to global markets. Additionally, during the second half of 2025, production of the Polestar 4 will start also in Busan, South Korea; those cars will be sold there and also exported to North America.
Gallery: Polestar 4 Manufacturing In China
While this still means the Polestar 4 won't qualify for U.S. EV tax credits, it does get around the tense geopolitical relationships between the U.S. and China. It's also why Polestar is preparing to start production of the Polestar 3 model South Carolina in the U.S. in the summer of 2024. South Carolina is the second manufacturing site after Chengdu, China, which will go online in early 2024.)
The other Polestar models in the pipeline – Polestar 5 and Polestar 6 – are scheduled for 2024 and 2026 and so far, only the Chengdu, China site has been selected for its production. When it comes to the Polestar 4, the model will be produced in South Korea by Renault Korea Motors (RKM) – a joint venture company owned by Renault, Polestar parent company Geely Holdings and Samsung. The plant located in Busan has direct access to exporting ports and 23 years of experience in vehicle manufacturing, as well as approximately 2,000 employees. The Polestar 4 will be the first all-electric model produced at the site.
Polestar has an asset-light approach when it comes to development and manufacturing, which means that it does not have its own factories but relies on partners like Geely, Volvo Cars and now RKM for carmaking. (Then again, it helps when the parent company is Geely, so it has a lot to work with.) Indeed, Polestar told us that the upcoming Polestar 3 is Volvo-based, while the Polestar 4 is more related to Zeekr, another Geely EV brand. 
Gallery: Polestar 4
"We're very happy to take the next step in diversifying our manufacturing footprint together with Geely Holding and Renault Korea Motors, a company that shares our focus on quality and sustainability," Polestar CEO Thomas Ingenlath said in a statement. "With Polestar 3 on track to start production in Chengdu, China in early 2024 and in South Carolina, USA, in the summer of 2024, we will soon have manufacturing operations in five factories, across three countries, supporting our global growth ambitions."
The location of the Polestar 4 production in South Korea follows also the recently announced partnership between Polestar and SK On for batteries in the Polestar 5 model. Who knows, maybe the South Korean partnership will expand even further in the coming years.
—Reporting by Mark Kane
'Virtual Power Plant'
Polestar is also jumping on the "charge your house with your EV" bandwagon. Here's more on what it's calling its Virtual Power Plant, a central management system that works with individual cars and the electric grids to supply power as needed:
Polestar is developing a Virtual Power Plant (VPP) that links all participating Polestar 3 cars connected to the grid. The cloud-based VPP calculates the collective capacity of connected batteries and initiates charging or discharging based on grid demand and battery longevity optimization. This will allow car owners to both contribute to the energy transition and monetize their EV while it's parked, without any intervention. The owner simply plugs in their vehicle and the VPP and smart charging tech will do the rest – optimizing battery use for their transport needs and support the grid.
Many automakers are taking a similar approach to this, including General Motors, Hyundai and more, so it's not entirely surprising Polestar would go this route as well. We will especially see this put to use on the Polestar 3, which comes enabled for bidirectional charging.
The brand is also working on ways to test and demonstrate this technology as well. Using a large fleet of Polestar 3s, it's working with several partners on a large-scale vehicle-to-grid (V2G) test project in Gothenburg, Sweden. That program begins next year; a similar one in California is about to be underway too with the California Energy Commission and the non-profit energy R&D institute EPRI. 
More On Mobileye Chauffeur
Polestar also gave us a little more on the Mobileye Chauffeur system it announced back in August. Today, as Guidehouse analyst Sam Abuelsamid reported in Forbes, we know that this system will also use Luminar's next-generation Iris Lidar to enable its "eyes-off, hands-off" automated driving. 
The Polestar 4 will be the first production car to feature Mobileye Chauffeur, and one of the few production cars on sale with Lidar – although the Geely group is deploying this on several models from Volvo, Lotus and its other brands. From today's news release: 
With Mobileye Chauffeur, Polestar 4 is set to feature three Mobileye EyeQ6 processors, a front-facing LiDAR from Luminar, and Mobileye's front-facing imaging radar to provide the extra layer of sensing and artificial intelligence needed to enable eyes-off, hands-off driving.

LiDAR (Light Detection and Ranging) uses lasers to create a highly detailed 3D map of the surrounding environment. Luminar's LiDAR is uniquely engineered from chip-level up and with a higher wavelength, enabling the greatest level of performance and safety capabilities for production cars. When coupled with Mobileye's Chauffeur platform, the result will be a turnkey, safer and high-performing automated system.
So-called "eyes-off, hands-off" setups are how Mobileye defines cars with an advanced level of automation. Such cars still require a human driver in the seat who can intervene if necessary, but automate most other driving tasks. In theory, this should make the Polestar 4 one of the more advanced semi-automated cars on the road, though as Forbes notes, the car is expected to launch with a "eyes-on, hands-off" system like GM's Super Cruise and then get upgraded later.
StoreDot XFC Cells For Possible '100-In-5' Charging
The last notable item is something we covered earlier today, but I'm mentioning it here as well. Next year, the brand will begin testing a Polestar 5 equipped with Israeli battery startup StoreDot's extreme fast charging (XFC) cells, and if successful, these could add 100 miles of range in just five minutes.
If successful, these cells could represent some of the fastest-charging vehicles on the market. But this technology is still due to be tested for a while, so don't expect to see such rapid charging – and ideally, with no battery degradation – for a good while.
InsideEVs has more coming from Polestar Day soon. Let us know what you think of the brand's plans so far in the comments. 
Source: Read Full Article