Why The Chevrolet Bolt Is Still An Unbeatable Deal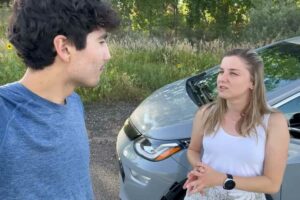 Even as the price of new electric cars continues to drop, $50,000 – which is roughly the average transaction price of a new electric car in the United States – is still a lot of money to spend on a car for a lot of people. So many people are turning to the used EV market to find their next zero-emissions ride. People like Gosia, who got rid of her gas-powered 2021 Hyundai Kona and got a screaming deal on a used 2019 Chevrolet Bolt EV.
She bought it for less than $20,000 and on top of that, she got a $3,000 rebate from her local energy company in Colorado, plus $4,000 in the form of the used EV tax incentive. So at the end of the day, the final cost for the car was about $13,000 without considering potential savings from using electricity instead of gasoline. 
Moreover, after factoring in all the rebates and incentives, she actually ended up with about $2,000 in her pocket after selling her previous car, which is a pretty good deal.
The Bolt EV in question had about 30,000 miles on the odometer when Gosia bought it, which is not a lot, but what sealed the deal was the fact that the all-electric hatchback had its high-voltage battery replaced under the recall that addressed the not-so-unimportant issue of it potentially catching fire. That was before General Motors stopped replacing batteries and offered a software fix instead for 2020 to 2022 model-year Bolts.
The EV shown in the Out of Spec Guide video embedded above hasn't been used for long-distance road trips yet and is driven around the city almost exclusively. The new owner says she doesn't have a home charger, which is not ideal. But the parking lot at her school has a free EV charger and there are a lot of chargers near her home, so she has fewer concerns on that front.
Gallery: Chevrolet Bolt EV 2020
After buying it, she put around 1,000 miles on the EV, driving on her daily 40-mile commute. And with over 200 miles of usable range, she says the battery capacity is more than enough for what she needs. Plus, because it's an older model, it still has Apple CarPlay and Android Auto, as opposed to the next-gen cars prepared by GM that won't have either of these features.
Considering EVs made by General Motors will get access to Tesla's Supercharger network next year, which essentially means upping the number of available fast chargers, buying a used Bolt with a new battery makes a lot of sense. Mind you, the electric hatchback can only accept 55 kilowatts from a DC fast charger so it's not as quick as many modern competitors, but for short drives like Gosia's, it shouldn't matter too much.
Would you consider buying a gently used Bolt for your commuting needs?
Source: Out of Spec Guide (YouTube)
Source: Read Full Article