Your Tesla Model S Or X Might Have The Wrong Steering Wheel Airbag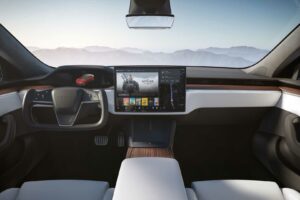 Tesla's yoke steering wheel saga continues, and not in a good way.
After backtracking on the idea that a fighter jet-inspired steering wheel should be the only available option for the updated Model S and Model X, Tesla offered customers the chance to swap their steering wheels, for a price.
That offer was so popular that it sold out in eight days. However, it also came back to bite Tesla eight months later because the service technicians may have installed the wrong airbag in the steering wheel after swapping it for a different model.
As a result, the Elon Musk-led EV manufacturer has issued a rare recall notice where suspected cars will have to be physically inspected and get a replacement driver airbag if the wrong one is installed.
According to the report issued by the National Highway Traffic Safety Administration, Tesla is recalling certain 2021-2023 Model S and Model X vehicles because an incorrect airbag may have been installed when the steering yoke or round steering wheel was replaced with a different style of yoke or round steering wheel.
Tesla Model S Yoke
The problem is that the airbag is different between the two steering wheel styles, and it looks like the service technicians didn't know about this. The NHTSA describes the issue in its recall report as follows:
Based on the variance in design of the round steering wheel and the yoke steering wheel, a different driver airbag is designed for each steering wheel. During vehicle servicing of certain vehicles to retrofit the vehicle with the alternate steering wheel per the customer's request, a round steering wheel may have been equipped with a driver airbag variant designed for the yoke steering wheel airbag and a yoke steering wheel may have been equipped with a driver airbag variant designed for the round steering wheel.
It goes without saying that an airbag assembly that isn't an exact fit for the steering wheel is a safety risk, a fact that's acknowledged by Tesla in the NHTSA report. All affected cars will be checked by Tesla and, if necessary, the wrong airbag will be replaced with the correct one free of charge.
The yoke steering wheel debuted in 2021 as the only option for the then-refreshed Model S and Model X flagships. However, customer feedback made the Austin-based EV marque change its mind.
A few years later, after people complained about the yoke's lack of practicality and potential safety risks, Tesla introduced a round steering wheel in January 2023 as the standard spec for the two EVs, while the yoke became a no-cost option. Fast-forward to September, and the yoke is a $1,000 option.
Source: Read Full Article