Xpeng G6 to be brand's first right-hand drive model – SUV with up to 755 km EV range coming to UK in 2024 – paultan.org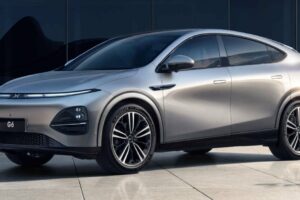 Xpeng plans to launch right-hand drive versions of its models in the United Kingdom next year, according to a report by Autocar. The company currently sells electric vehicles (EVs) in Denmark, the Netherlands, Norway and Sweden, with plans for more markets in the European region.
At this year's IAA Mobility in Munich, Xpeng announced that it plans to sell EVs in France and Germany next year, but the UK will be one of its first right-hand drive markets. It was previously reported that Xpeng will also enter Hong Kong, which would mark it as the first major Chinese automaker to tap into a market where Tesla has a strong presence.
Xpeng president Brian Gu said at IAA Mobility that the UK will get the G6 but not the G9 and P7 – the last two are offered in left-hand drive European markets. The G6 is as midsize SUV that was introduced in April this year and built on the company's SEPA 2.0 platform with an 800-volt architecture.
The rear-wheel drive variant of the G6 features an electric motor rated at 296 PS (292 hp or 218 kW) and 440 Nm of torque. Meanwhile, the all-wheel drive variant gets two electric motors with a total system output of 487 PS (480 hp or 358 kW) and 660 Nm.
Two battery packs are available, reports CarNewsChina, including a 66-kWh lithium iron phosphate (LFP) unit for RWD models that offers a CLTC-rated range of 580 km. The other option is an 87.5-kWh nickel manganese cobalt (NMC) unit that provides 755 km (single motor) or 700 km (dual motor) of range. The G6 is capable of handling DC fast charging at a max rate of 480 kW.
GALLERY: 2023 Xpeng G6




































Looking to sell your car? Sell it with myTukar.
Source: Read Full Article