This Tiny Electric V8 Is A Perfect Replica Of A 1965 Ford Mustang's Engine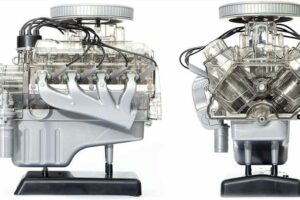 We are big fans of tiny engines at Motor1, and this 1:3 scale Ford V8 engine model has us rethinking our holiday gift list. It's made by Franzis, a German-based company but this burbly American V8 replica is available to purchase online for folks all around the world. Right now, our fingers are hovering over Amazon's Buy Now button as we debate parting with $194.
For that price, you get a tabletop-sized facsimile of a 289-cubic-inch V8 engine as fitted to the 1965 Ford Mustang. No, this tiny mill isn't actually functional, as we've seen with other miniature V8s, but it's also significantly less expensive. This isn't a purely static model either – the crankshaft rotates in a see-through engine block, showing how the pistons, lifters, valves, pushrods, and camshaft work in harmony to convert air and fuel into horsepower. An electric motor turns the engine over, and yes, the irony of that as the world transitions to electric cars isn't lost on us.
Gallery: 1:3 Scale 1965 Ford Mustang Engine Model
There's more to this model than just a mechanical show. Lights simulate spark plugs firing, activated by the spark plug wires. As the crankshaft turns, a small belt at the front of the engine turns an old-school fan, alternator, and a see-through water pump. The engine base also contains a speaker that plays a V8 soundtrack when it's turned on.
All total, there are over 200 parts in the kit, and it's actually quite technical. The assembly process requires correct engine timing so the pistons, valves, camshaft, and spark plugs are in sync. The parts are plastic and largely press-fit, though some components are fastened together with screws. If all goes according to plan, assembly time is estimated to be around three hours.
In the world of engines, Ford's small-block V8 is certainly a keeper. Launched in the early 1960s, it quickly evolved to the 289 cubic-inch mill depicted here. The same basic design ultimately grew to 351 cubic inches (5.8 liters), but most gearheads recognize the venerable 302 C.I. V8 – AKA the 5.0L – as the engine that powered a wide range of Fords for decades. The small-block pushrod engine was finally retired in 2001, finishing its run under the hood of Ford Explorer and Mercury Mountaineer SUVs.
Source: Read Full Article